Students will get results 'on time', SQA says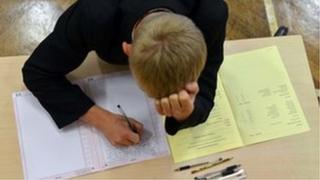 The Scottish Qualifications Authority is reassuring students they will get their exam results on time in August.
This is despite claims that some markers have dropped out because of changes to the way they are paid.
Some markers are believed to be unhappy the SQA has changed from a weekly to a monthly payroll.
The changes have been introduced as a result of new UK-wide pensions legislation.
But the authority says the marking timetable is on schedule and that exam results will still be issued on 6 August.
'On target'
Changes to pensions legislation mean the SQA must assess each marker's earnings on an on-going basis and deduct pension contributions where appropriate.
An SQA spokesperson said: "Due to the nature and the volume of checks that need to be carried out, we had to change from a weekly to a monthly payroll.
"However, we wish to make it clear that we are very much on target with the marking timetable and there will be no impact whatsoever on candidates receiving their results as planned on 6 August."
Markers - normally current or former teachers - are paid a fixed amount for each paper they mark. They were told about the changes to the payment system several months ago.
Some education professionals say there is anecdotal evidence that some people who had marked papers in previous years were put off by the changes.
For example, some may have found the money they got in June from marking papers a handy source of extra money before they went on holiday.
Extra papers
There have been claims that some markers had been asked to mark "hundreds more papers" than they might originally have expected.
But the SQA says the changes have not led to a shortage of markers. It says the recruitment of markers went to plan this year and the turnover of markers was actually down on last year.
The SQA said there had not been a "significant" fall in the overall number of markers in any major subject, They said it was normal for some markers to be given extra papers, for instance because of sickness.
The SQA is always on the look out for potential markers for future years. Successful applicants are added to its reserve list then asked to join the marking team when a vacancy arises.
Markers are trained before they start their work and their work is quality assured.
When a marker drops out, for one reason or another, during the marking season, for instance because of illness or family circumstances, the papers they might have assessed are re-allocated to others. But extra markers cannot be brought in at that stage.