'High risk' women offered breast cancer drug tamoxifen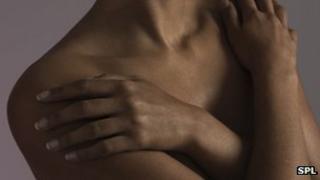 Women in Scotland who are most at risk of developing breast cancer are to be offered a preventative drug on the NHS.
Studies have found that taking tamoxifen can cut the chances of developing the disease by half.
New guidelines for England and Wales recommend it be given to healthy women "at risk" of the cancer.
The Scottish government says women with two or more family members who have had breast cancer will be offered the drug for five years.
It is the first time a preventative treatment, other than screening and surgery, will be available to those at risk of breast cancer.
It was announced last month genetic testing was also to be offered in Scotland to those with a 10% risk of a faulty gene.
This was the test which Hollywood actress Angelina Jolie took before having a double mastectomy.
Breast cancer is the most common cancer in the UK, with about 50,000 women and 400 men diagnosed with the condition each year.
The announcement that tamoxifen will be offered for five years to women at high risk of breast cancer - unless they have a past history of thromboembolic disease or endometrial cancer - means women will now have a choice other than mastectomy.
Preventative medicine
Based on research findings, experts estimate that for every 1,000 women given tamoxifen, there would be 20 fewer breast cancers.
Scottish Health Secretary Alex Neil said: "We know that the earlier cancer is detected the easier it is to treat and the better the chance of survival. But prevention really is the best cure.
"It is fantastic that we can now find out who is most at risk of cancer and stop it from developing. The way we deal with cancer now has changed significantly, thanks to new technology and continued improvement and investment in services over the years people are now living longer with cancer.
"Anyone who is concerned they may be at risk of breast cancer because of their family history should contact their GP who can offer advice on what to do."
Charity Breakthrough Breast Cancer welcomed the announcement that tamoxifen was to be offered as a preventative treatment.
Its Scotland director James Jopling said: "It is so important that people have an array of options available to them to manage their own breast cancer risk.
"Although they represent only a very small proportion of the population, for those at highest risk it is vital that their options go beyond screening or surgery through the use of preventative medicine."