Target to reduce hospital 'bed blocking' missed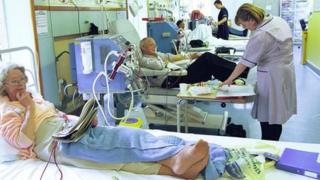 A Scottish government target to reduce the number of people left waiting in hospital for four weeks after being cleared to go home has been missed.
New figures show that 125,410 bed days were lost to hospital "bed blocking" between January and March this year.
At the time of the survey, 68 people had been waiting four weeks to leave hospital, despite being fit to leave.
The government said it was disappointed that its target to reduce the number to zero had not been met.
At the April 2013 census, 44 patients were delayed more than four weeks and 24 patients delayed for more than six weeks.
Reasons given for the delays included 18 patients "awaiting place availability in a care home" and 11 patients "waiting to go home".
Until recently, the national target was that no patient should be delayed in hospital for longer than six weeks from when they were clinically ready for discharge.
New targets set in October 2011 stated that by April 2013 no patient should wait more than four weeks.
Tough targets
Delayed discharges occur when patients are ready to leave hospital but their necessary care, support and accommodation arrangements have not been put in place.
The figures do not include "code nine" cases which describes patients waiting for high-level specialist support, where an interim option is not considered appropriate.
In January there were 253 patients in that category.
A Scottish government spokeswoman said: "We have made great progress in reducing delayed discharge since 2007 and the current figure is far lower than ever before and compares with 418 delays over four weeks in April 2007.
"However, we are disappointed that the new target has not been achieved.
"This is a tough new target to be achieved under challenging circumstances for NHS boards and local authorities.
"Our plans to integrate adult health and social care will go a long way to help resolve this problem."