Online insight into late Victorian Scottish life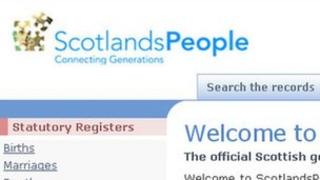 Insight into the lives of more than two million Scots from the late Victorian age has been made available in newly-published records.
It is hoped the addition of the Valuation Rolls for 1895 to the website ScotlandsPeople will prove invaluable for family and local history research.
The data on buildings and their owners also includes 75,000 images.
Well-known Scots who appear in the rolls include grocery millionaire Sir Thomas Lipton and painter Anne Redpath.
The 1895 roll is the third set of indexes and images to be added to the government genealogy website, following rolls for 1915 and 1905.
Among the new entries, researchers at the National Records of Scotland found reference to the growth of tea rooms, the opening of Scotland's first crematorium and the provision of housing for workers, such as shale miners and prison staff.
Fiona Hyslop, Cabinet Secretary for Culture and External Affairs, said the website was an "incredible resource".
"The release of the Valuation Rolls for 1895 is a welcome development that will strengthen the rich resource available in Scotland's national archive," she said.
Tim Ellis, registrar general and keeper of the Records of Scotland, said: "Reading an entry for a single building can provide a fascinating insight into local life at the time - adding to the information people can obtain from census records taken around that period."
Each roll can be searched by name and address, with the records listing the names of owners, tenants and occupiers of each property - in many cases occupations are also included.