Drop in Scottish alcohol sales 'due to multi-buy ban'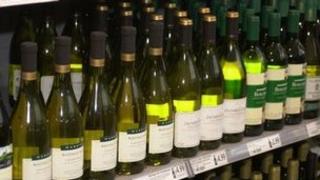 The amount of alcohol sold in Scottish shops has fallen by 2.6% in the year since multi-buy promotions were banned, according to research.
A report by NHS Scotland and Glasgow University claimed the Alcohol Act was responsible for a 4% drop in wine sales and an 8.5% cut in pre-mixed drinks.
The act, introduced in October 2011, placed restrictions on how alcohol could be displayed and promoted.
Researchers said all potential reasons for the fall were taken into account.
Dr Jim Lewsey, from the University of Glasgow and co-author of Monitoring and Evaluating Scotland's Alcohol Strategy, said: "Similar declines were not observed in England and Wales, where the Alcohol Act does not apply.
"The possible impacts of other factors, such as changes in income and alcohol prices, were taken into account.
"This provides evidence that the effects were associated with the act and not some other factor."
Incentive removed
Mark Robinson, from NHS Health Scotland and study lead, said some retailers had responded to the multi-buy discount ban by selling individual bottles of wine for £3.33 instead of offering three bottles for £10.
He said: "However, the incentive for people to buy more alcohol than they may otherwise have bought was removed and wine sales decreased."
He warned that despite the cut in sales, alcohol consumption remained high and alcohol was still sold at low prices.
"There is good evidence to show that the positive effects of the Alcohol Act would be enhanced by minimum unit pricing, which would prevent the sale of cheap, high strength alcohol," he said.
The report's interpretation of the figures has been disputed by the drinks industry.
Miles Beale, chief executive of the Wine and Spirit Trade Association, said: "This report fails to show any evidence of the impact of Scotland's ban on multi-buy restrictions on tackling alcohol misuse.
"The drop in sales of 2.6% attributed to the ban was described as 'statistically non-significant' by the researchers.
"The report acknowledges that there is currently no direct evidence linking multi-buy promotion to alcohol consumption in the off-trade."