Breast cancer gene test extended in Scotland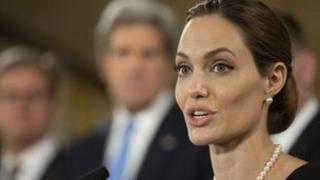 More women in Scotland will be offered a breast cancer genetic test in line with a decision south of the border, the Scottish government has confirmed.
A cancer charity had raised concern over whether Scotland would follow suit with England and Wales by widening eligibility for the BRCA gene test.
This was the test which Angelina Jolie took before having a double mastectomy.
From next month the test will be offered to women who have a one-in-10 (10%) chance of having a faulty gene.
Currently, only those with a one-in-five (20%) chance of having a faulty gene are eligible.
The Scottish Genetics Laboratory Consortium steering group decided to extend the testing in line with a Nice (National Institute for Health and Care Excellence) recommendation to loosen eligibility criteria.
Seeking advice
Health Secretary Alex Neil said: "This agreement was reached in April this year and is to be fully implemented by 1 June.
"Anyone who is concerned they may be at risk because of their family history should seek advice via their GP who can, if appropriate, refer on to the cancer genetics service.
"The earlier cancer is detected the easier it is to treat and the better the chance of a successful outcome, and we hope that Ms Jolie's story will encourage anyone with a family history of cancer to seek advice from the medical profession."
Charity Breakthrough Breast Cancer, which had called for Scotland to mirror the new Nice guidelines, welcomed the announcement.
Its Scotland director, James Jopling, added: "It is worth remembering the gene fault is rare and is present in less than 1% of the population, usually where there are multiple members of the family affected by breast or ovarian cancer at a younger age than would usually be expected."