Medical chief in measles warning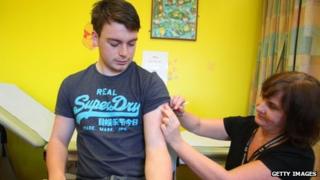 Scotland's Chief Medical Officer has called for children aged between 10 and 17 to be vaccinated against measles.
Sir Harry Burns made the call ahead of the launch of a nationwide campaign next week to boost take up.
There are fears that a generation of children have low levels of protection after the MMR scare a decade ago.
Sir Harry said: "There is still a proportion of 10-17 year olds in Scotland who are not immunised or partially immunised."
He said: "This is the age group who are most likely to have missed out on vaccination during the years of unfounded controversy over the safety of the vaccine."
There are fears about the spread of measles after the number of cases in Wales rose over the past six months to a total just short of 1,000.
Across the whole of England and Wales there were 2,030 cases last year - the highest figure in almost two decades.
In Scotland, NHS boards will soon be offering the vaccination to ensure young people will be protected if they have not already been immunised or are not fully immunised.
They will also work with schools and education authorities to make sure people have all the information they need.
The chief medical officer said: "Although measles continues to circulate throughout the UK, the number of cases in Scotland remains low.
"Getting vaccinated is the best way to protect our children against serious diseases and I would urge parents to ensure their children are protected."
Scotland now has vaccination rates of 96.9% in children reaching the age of five.
But that figure had fallen to just above 80% by 2003 following a controversy which began in 1998 when Dr Andrew Wakefield claimed to find a link between autism and the MMR vaccine used to protect against measles, mumps and rubella.
Typical symptoms of measles include fever, cough, conjunctivitis and a rash.
Complications are quite common even in healthy people, and around 20% of reported measles cases experience one or more complication.
These can include ear infections, vomiting and diarrhoea, pneumonia, meningitis and serious eye disorders.