Scottish mackerel 'cleared to eat'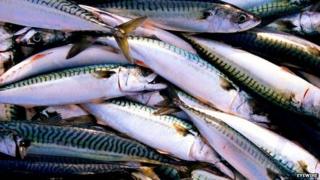 Political and fishing industry leaders have welcomed the decision to upgrade the status of mackerel caught by Scottish skippers.
The Marine Conservation Society now suggests it can occasionally be eaten without endangering the species.
It comes at a time when the Scottish industry is demanding sanctions against Iceland and the Faroe Islands for what it says is over-fishing of mackerel.
The MCS does not recommend eating the species caught by these trawlers.
Ian Gatt, chief executive of the Scottish Pelagic Fishermen's Association, said: "We are pleased that the Marine Conservation Society has made this important differentiation between Scottish-caught mackerel compared with that from Iceland and the Faroes.
"This new assessment will enable consumers to make informed choices when purchasing mackerel."
He added: "Scottish mackerel and herring fishermen are committed to sustainable catching as is highlighted by the fact that all our herring fisheries are Marine Stewardship Council certified."
Scotland's Fishing Minister Richard Lochhead said: "I am pleased that the MCS has taken a more sensible approach to this issue by upgrading our sustainably-caught mackerel.
"It is important that the grading is fair and recognises the difference between that which is sustainably caught and that which is not.
"Scotland's fishermen have stuck to the principles of an international agreement and fixed limits in tandem with Norway - Iceland and Faroe have refused to negotiate and set unilateral quotas.
"So it is good news for our fishermen that MCS have taken this on board so our fishermen are not punished further because of the actions of others - the bottom line is that sustainably-caught Scottish mackerel is good to eat."
'One-sided decision'
He added: "The mackerel stock is currently still healthy, although the science shows it is beginning to be affected by the overfishing of Iceland and Faroe.
"So we all recognise that this situation cannot be allowed to continue - we need to find an agreement as soon as possible."
However, the Icelandic government branded the decision "one-sided" and said it did not factor in Iceland's requests for collaboration with other states, including Scotland, Norway and the Faroe Islands.
Steingrímur J Sigfússon, Iceland's minister of industries and innovation, said: "Because the Marine Conservation Society did not engage with Iceland's government or Iceland Responsible Fisheries prior to issuing its ratings, we hope to meet with the organisation as soon as possible to explain how Iceland is protecting the mackerel stock by reducing our catch and fishing using sustainable practices, and to explore opportunities to collaborate on research and fisheries management policy."