Scotland's fishing industry: Lochhead hails talks 'significant step forward'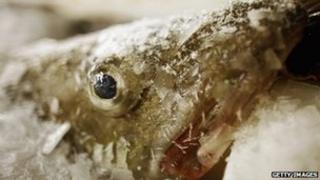 Scotland's Fisheries Secretary Richard Lochhead has described talks over reforms to the Common Fisheries Policy as a "significant step forward".
Ministers from across Europe spent the night in Brussels where they agreed new rules to stop dumping dead fish.
They also agreed to decentralise decision making, which would allow member states more control over their own fisheries.
However, WWF Scotland said the proposals lacked any real detail.
Fisheries minister at Westminster Richard Benyon, who led the negotiations for the UK delegation, said the next step was for the European Parliament to agree on the measures.
Following the agreement in the early hours, Mr Lochhead said: "For decades we have fought to bring more control over our fishing sector out of Brussels to local fisheries.
"The regionalisation deal which has been agreed will allow a degree of decision making to be brought back from Brussels."
He added: "The other key plank in discussions was ensuring that after securing a historic agreement in February to finally end the dreadful practice of discards, we worked out the details of how the discard ban will operate.
"It was crucial - and very challenging - to get all member states to agree to the implementation of ambitious and enforceable landing obligations."
'Common-sense position'
Chief executive of the Scottish Fishermen's Federation, Bertie Armstrong, said the talks had delivered "good news" for the industry.
He said: "We have yet to see the details but with the political decision to ban discards already taken, we seem to have achieved a mostly common-sense position on its introduction with the first phase postponed until 2015 and a certain amount of flexibility built into the rest of the programme."
WWF Scotland said the agreement was a positive step forward, but called for ministers to be more ambitious with the reforms.
Helen McLachlan, fisheries programme manager at WWF Scotland, said: "The devil is in the detail, but in this case it's the lack of detail, as fisheries ministers decided on a legally neutral text with few binding timelines and concrete measures.
"If implemented as such, poor management of our fish stocks and the knock on effect it has on our seas is likely to continue for yet another decade.
"This is a once in a decade opportunity to safeguard fish stocks and the communities that depend on them."