Landlords urged to meet tenancy deposit scheme deadline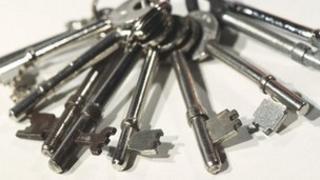 Landlords have been urged to register for a compulsory scheme designed to protect tenants' deposits before new rules take effect.
Regulations drawn up by Scottish ministers require landlords and letting agents to hand over deposits to an approved third party for safekeeping.
They were introduced in a bid to prevent landlords from holding on to tenants' money on false grounds.
The deadline for landlords to sign up to a scheme is Wednesday.
Housing minister Margaret Burgess said: "So far, the schemes have seen strong uptake. Up to the end of March this year, over 129,000 deposits with a total value of £85 million have been lodged with one of the three Tenancy Deposit Schemes.
"It is important to stress that the majority of landlords act responsibly."
However, one of the organisations that has been approved to safeguard deposits warned that thousands of landlords could face legal action as they still had not registered.
Malcolm Lindo, managing director of SafeDeposits Scotland, said: "Based on the latest Scottish Government figures, we estimate there are up to 56% of tenancies eligible for taking a deposit where a deposit has not yet been paid into a scheme."