Revellers raise the roof at Scotland's first sing-along club-night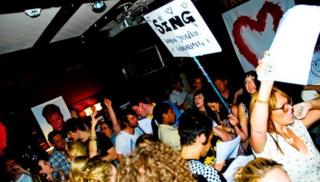 Love it or loathe it karaoke is big, but what if you don't have the guts - or the voice - to get up on the mic in front of a crowd? Could a sing-along club-night hold the answer?
'Friday, I'm in Love' is Scotland's first sing-along club-night.
Clubbers are each given a songbook at the door and invited in to belt it out at the top of their lungs to a live band. Think part-choir, part-football crowd.
The music is made up of 80s and 90s classics by bands such as Oasis, The Stone Roses, and The Cure.
Glasgow choir The Parsonage kick off the night with a rendition of 'Friday, I'm in Love'.
What follows could not be described as harmonious. But what it lacks in skill, it makes up for in sheer enthusiasm.
There is no lead singer, but a sing-along compere wields a placard with the alternating messages "sing when you're winning" and "go mental for instrumental" to encourage the crowd along.
The night's founder, Glasgow-born music-lover Jayne Savva, says she "stole" the idea from Sweden.
"A few years ago I was in Stockholm with some friends, and they were talking about this sing-along club-night," she says.
"We went along on a really cold winter night, and I couldn't believe how many people were there.
"I thought this could be really good in Scotland. Basically, an old-fashioned sing-along."
Together with drummer Mat Morrisroe, she tested the idea in a pub basement in London with a group of friends.
It was an instant hit. Two years later the night has amassed a large following, and moved to a 300-capacity venue.
Bringing the night to Glasgow is the first step for the pair to realising their dream of launching it at clubs around the UK.
They also have their sights set on Glastonbury.
But what is it about a sing-along club night that seems to appeal to people?
"I think people just really love to sing. And the funny thing about it is that when you tell people about it they go, 'no, no, I don't sing, I can't sing', and they automatically think it's karaoke, but it's not," says Jayne.
"It's not like that karaoke thing where either you're really bad and everyone's laughing at you, or you're really good and everyone's like 'get off, show-off'.
"When you're singing together it's more about the communal experience of singing. It's very bonding."
Mat thinks that part of the secret is that it instantly breaks down barriers.
"When everyone's one, when you get the crowd and the band and everyone's together, it's really nice just to see everyone getting along and getting their arms around strangers, and just singing along together.
"In the old days people would get round the piano and sing Roll out the Barrel, and that doesn't really happen anymore.
"People love singing, but they are so self-conscious. We just give them the space to let themselves go. It sort of pricks that stiff upper lip thing."
Soul sound
But more than just a bit of fun, Mat and Jayne also believe that the night could be good for you - boosting your confidence and leaving you healthier and happier. So is there anything in the suggestion?
Fiona Shepherd, music critic and founding member of The Parsonage choir, thinks there might be.
"I definitely think communal singing is good for the soul," she says.
"There's something quite therapeutic and quite euphoric about singing with other people.
"It's nothing about being a good singer; it's just about being able to express yourself.
"I think physiologically and psychologically singing is good for you, and anybody can come along and get involved in something like this."
So what do Glasgow's punters think?
"It's an opportunity to belt out your lungs and sing at full pelt," says one reveller.
"If you're sitting on the sofa watching The Voice, you can't really do that.
"And everybody's having a laugh...although I'm a bit hoarse!"
So, whether this sing-along club night is the new karaoke, or just a flash in the pan, for now at least it seems Glasgow's clubbers are singing its praises.