Beach survey shows dramatic increase in smoking-related litter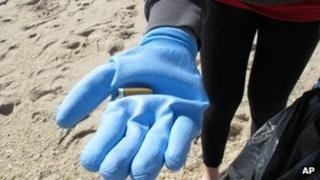 The amount of cigarette butts and other smoking-related litter dropped on Scotland's beaches has almost doubled in the past year, a conservation charity has said.
The figures, based on an annual beach clean up, also suggested that more than half of all beach rubbish was plastic.
The Marine Conservation Society said this was a particular concern because plastic is unlikely to break down.
It called for a Scottish marine litter strategy to be introduced.
The annual Beachwatch Big Weekend Report showed that the number of cigarette stubs found was double that of 2011.
There was also a 90% rise in items such as cigarette packets, lighters and other smoking-related rubbish.
And there was an increase in the number of sweet and lolly wrappers found, and more than 110 plastic drinks bottles found for every kilometre surveyed.
Anne Saunders, Scottish projects officer, said the rise was extremely worrying.
"As we continue to embrace the concept of a throwaway society it's no surprise that plastic dominates the litter we find," she said.
She said the results suggested that anti-litter campaigns were "falling on deaf ears".
Litter strategy
Ms Saunders added: "Last year we saw an encouraging drop in the amount of sewage related debris on Scottish beaches - that's the stuff people shouldn't put down their loos but do, like sanitary towels, nappies and condoms - but this year's figures show that has risen again which is very disappointing."
She called on Scotland to follow Wales and Northern Ireland in implementing a single-use carrier bag levy.
She also urged the Scottish government to follow through on its 2010 commitment to a marine litter strategy.
"We must hammer home the message that litter is completely unacceptable in the 21st century," she said.
Beachwatch is part of the International Coastal Clean-up which takes place in 180 countries and regions worldwide over the same weekend every September.
In Scotland, almost 500 volunteers cleaned 35 beaches, collecting more than 20,000 items of litter.