Universal Credit: Warning over online benefit claims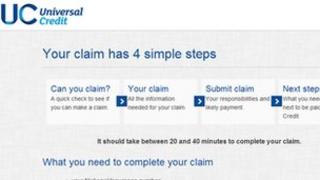 More than three quarters of benefit claimants in Scotland would struggle to apply for payments online, according to a new report.
The UK government is moving to a system which will eventually see most people claim benefits using the internet.
A Citizens Advice Scotland survey suggested 76% of those currently receiving benefits would find this difficult.
The government has said it will work to identify those who need extra help.
In the biggest shake-up of the welfare system for years, Universal Credit is replacing a number of existing working-age benefits.
Millions of existing claimants will be transferred on to the new system over a period of about four years, with the expectation that most people will apply for benefits and manage them online.
Online application
Citizens Advice Scotland surveyed 1,200 people who came to them with a benefits inquiry, asking them about their ability to use the internet.
Just 24% said they would be able to apply for a benefit on their own with no problem. A total of 39% said they could not apply online at all.
Almost three quarters of those questioned said they would struggle to apply for a job online, with 28% saying they could complete an online application on their own.
More than a third of respondents had never used the internet before.
Citizen's Advice said the results of the survey highlighted the need for extra support to be put in place. It warned no-one should lose their benefits because they are unable to use the internet.
Spokeswoman Sarah Beattie-Smith said: "The internet can have a hugely positive impact on the lives of those who are able to use it. It can improve peoples' access to benefits, jobs, leisure and consumer opportunities. So in principle we support moves to help get people online and encourage them to open up their lives.
"However, we are aware that many Scots are unable to use the internet - either because of lack of access, lack of training and skills, or having a disability.
"These people already face a disadvantage, which is now being compounded by the UK government's drive to move access to benefits and job search facilities online."
Advice services
The UK government has said it hopes 80% of benefits applications will be completed online by 2017.
Ms Beattie-Smith added: "We call on the government to recognise the reality that huge numbers of people are not prepared for this change, and need support.
"Above all, nobody should lose their benefit income because they are unable to use the internet."
The Department of Work and Pensions has said it is already working with local authorities and others to determine who will need extra help.
A spokeswoman added: "Nearly 80% of working age benefit claimants already use the internet - 48% of those say they log on every day - many to search for jobs online.
"We've always recognised that some people will need extra support to access the internet and so in preparing for Universal Credit, we are working with local authorities and local services to determine who will need this extra help - be it money advice services, face to face support or help to get online - and how best to deliver it."