David Livingstone: Family pride over 'flawed' explorer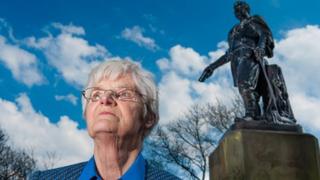 Scottish explorer David Livingstone was "flawed" but generations of people have benefited from his influence, one of his great grandchildren has said.
Elspeth Murdoch, 85, said his prolonged absences abroad must have been difficult for his wife and family.
But she added it was important to view him "through the culture of the time".
Mrs Murdoch and her brother and sister are to be special guests at the General Assembly of the Church of Scotland to mark 200 years since his birth.
Mrs Murdoch, her sister Mary, 83, from Crieff, and brother Neil, 80, from Kendal in Cumbria, have been invited to attend the assembly's session on 21 May.
Mrs Murdoch, who is an elder at Buchlyvie Parish Church in Stirlingshire, said she took pride in an ancestor who had been "living on her shoulders for 85 years".
Mrs Murdoch explained: "He was absolutely dedicated and passionate about what he did.
"His aim was to bring Christianity and commerce to central Africa. Without a doubt I am proud of what he achieved and his legacy to this part of the world.
"His influence is still being felt today, he undoubtedly set the ball rolling, and the seeds he sowed have seen future generations reap the benefit.
"There are things about him you can criticise but men at that time did leave their wives and family and could be away for years and years.
"Maybe his family did not gain from it but central Africa did."
Mrs Murdoch, a former nurse who has brought up four children, added: "As a father and as a husband he perhaps wasn't the best but he was extremely fond of his wife and was devastated when she died. "
Dr Livingstone was born into a poor and deeply religious Christian family in Blantyre, Lanarkshire, in 1813.
He spent much of his life in Africa where he became the first European to "discover" and name Victoria Falls.
He also advanced the use of quinine to fight malaria and campaigned to end slavery in east Africa.
The explorer died from malaria in a village near Lake Bangweulu in present-day Zambia.
He was buried at Westminster Abbey in London in 1874.