Mary, Queen of Scots statue call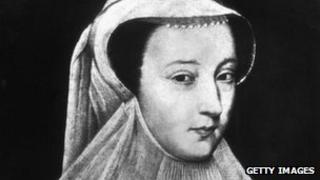 Campaigners have called for a public statue of Mary, Queen of Scots to be erected in Scotland.
The Marie Stuart Society said Mary's tale of murder and intrigue had made her famous across the globe, but she still does not have an official statue.
Mary was executed on the orders of her cousin Queen Elizabeth I in 1587.
The society want to raise about £100,000 for a full-size bronze statue of Mary, possibly at her birthplace of Linlithgow Palace.
Society resident Margaret Lumsdaine said: "As far as I am aware there is no official statue to the Queen in Scotland.
"There is one in the garden of a museum in Linlithgow and there is a small statuette on the Scott Monument in Princes Street Gardens.
"Strangely enough, there is one above a house in Fleet Street, London and another one in the back porch of Hardwick Hall in Derbyshire but there is no official statue in the public domain in Scotland."
Catholic dynasty
Mary Stuart was born at Linlithgow Palace on 7 December 1542. When she was six days old her father, James V, died and she became queen of Scotland.
She later lost the support of the nobility by marrying the Earl of Bothwell three months after the death of her husband the Earl of Darnley - who some believe had been murdered.
Mary abdicated in 1567, her infant son James was made king, and she was imprisoned. A year later she escaped and fled to England after losing the Battle of Langside.
Her cousin Queen Elizabeth I of England also imprisoned Mary, who was the focus of Catholic plots against Elizabeth.
After almost 20 years a letter linked Mary to someone plotting to depose Elizabeth and she was executed in 1587 at the age of 44.
Mary's son James went on to succeed Elizabeth in 1603, becoming King of both England and Scotland.
Museum exhibition
Adrian Cox, cultural resources advisor at Historic Scotland, said Mary was a "towering figure" in Scottish history.
He added: "Historic Scotland welcomes every year about 50,000 visitors to Linlithgow Palace.
"And lots of them come here because of that connection with the Stuart dynasty and Mary, Queen of Scots. "
National Museums Scotland is preparing to stage a major exhibition on Mary's life.
David Forsyth, a senior curator in their department of Scottish history, said: "I think Mary's personality is huge - she was a reigning woman monarch in a period when men still dominated the scene in Europe."