New hydro scheme approved near Ardross on 70th anniversary of industry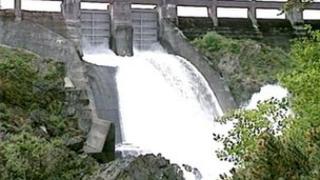 A hydro power scheme in Ross-shire has been given planning approval on the 70th anniversary of the beginning of the industry in Scotland.
The £30m scheme near Ardross will be able to supply power to up to 10,000 homes.
SSE will begin construction on the 7.5 megawatt Glasa scheme later this year.
The announcement comes as the first minister is to attend celebrations marking the anniversary of legislation which started the Highland hydro boom.
The new Glasa development will be the biggest since the Queen opened the Glendoe pump storage tunnel near Loch Ness four years ago.
Later on Wednesday, First Minister Alex Salmond will give a lecture on renewable energy in honour of Labour politician and former Secretary of State for Scotland Tom Johnston, who led the industry in its early years.
A 1943 parliamentary act kick-started the Power from the Glens campaign which brought large-scale hydro power to Scotland's lochs and rivers.
Mr Salmond said: "Hydro-electric and its role in producing energy is one of the greatest industrial success stories of post-war Scotland.
"Hydro drove not only industrial development but also immense social achievement - something which still rings true today as the Scottish government continues to grow delivery of clean energy through renewables schemes for the 21st Century and also by retaining support for new conventional hydro schemes."
Flexible and reliable
Jim Smith, SSE's managing director renewables, said: "Scotland and SSE share a strong legacy of hydro-electric power and I am delighted to announce our investment in the Glasa scheme in what is the 70th anniversary year of large-scale hydro development in Scotland.
"I believe that hydro still has an important role to play in the decarbonisation of our generation fleet and in providing a flexible and reliable source of electricity within a balanced energy mix."
After the Hydro Electric Development (Scotland) Act was passed in 1943, work started on the construction of dozens of dams and power stations.
At its peak, the workforce numbered about 12,000 men. After World War II, men from all over Scotland came to work on the schemes, attracted by high wages.
Germans, Poles and Czechs were acknowledged to be skilled tunnellers, and became known as the Tunnel Tigers.
In the late 1940s, a Tunnel Tiger could expect to earn up to £35 a week, compared with £3 or £4 for a Highland estate worker.
Energy source
An exhibition about the history of hydro from the last 70 years will be open to the public during a Scottish Renewables conference being held in Perth this week to mark the anniversary.
Some critics have said the schemes did not attract industry to the north in the way that the late Tom Johnston envisaged.
However, Joss Blamire, senior policy manager at Scottish Renewables said: "Hydro power is a fundamentally important source of energy in Scotland, where there is now 1.5 gigawatts of capacity, or enough to power the equivalent of more than 900,000 homes."
Peter Donaldson, director of renewable operations at SSE, said it was a testament to the engineering excellence of hydro pioneers that all of the plants that were built by the North of Scotland Hydro-Electric Board were still in operation.
The gallery will be open to the public on 8 May between 09:00 and 17:00 at Perth Concert Hall and is free to access.