Scottish Medicines Consortium 'should meet in public'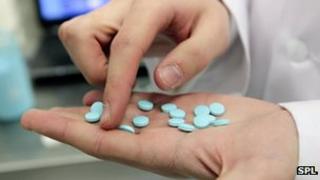 The body which advises NHS boards on whether to use new drugs should meet in public, a review has said.
The Scottish Medicines Consortium (SMC) provides advice to NHS boards about the clinical and cost-effectiveness of all newly-licensed medicines.
Health Secretary Alex Neil asked two experts to look at how it operates.
The New Medicines Review made a series of recommendations including letting patients and health professionals observe the appraisal process.
The review was carried out by Prof Philip Routledge, professor of clinical pharmacology in Cardiff University, and Prof Charles Swainson, the former medical director of NHS Lothian.
The report's authors said holding meetings in public would allow patients and patient group representatives to see how their submissions contributed to the discussion.
Those working in the NHS or pharmaceutical industry would be able to observe the "rigour of the scrutiny being applied to the sources of evidence", the review said.
NICE, the English equivalent, has conducted its appraisal meetings in public for several years.
Other recommendations in the report included:
SMC should invite the manufacturer of the new medicine under consideration to give evidence at their main appraisal meeting
The SMC "should be encouraged" to set up a new body, such as a citizen's council or a citizen's jury, to listen to public views about the availability of new medicines
SMC should be able to pause the appraisal process to have further discussions with the manufacturers.
Health Secretary Alex Neil said: "New medicines are a complicated issue and we have to make sure that we do this properly.
"Our proposed response to the review recommendations, as well as any recommendations from the parliamentary committee on health and sport, will be subject to consultation.
"Many of the recommendations focus around making sure the system is as open and transparent as possible and I want everyone to have their say on how we make sure that the Scotland has the best system possible."
Priority areas
Labour health spokeswoman Jackie Baillie said the review was a "much-needed report which helps shed light into how medicines are approved for use in Scotland's NHS".
She added: "It is particularly apt that Scots begin to participate in a discussion about the priority areas of spending when it comes to health."
Advice from the SMC is passed on to Area Drug and Therapeutics Committees (ADTCs) in health boards, who decide on its implementation.
The report called for these decisions to be published to make them more transparent.
On this, Ms Baillie said Labour's biggest concern centred around the "numerous" different decision-making bodies.
She added: "Scotland simply does not need more than a dozen different boards deciding upon which medicines should be available for use.
"It does not make sense, and nor is it fair, that someone in Stirling can get access to a medicine which someone in Stornoway can't. That fundamental problem remains."
The review found that the average uptake by NHS boards of medicines approved by the SMC was 74%.
'Postcode lottery'
Liberal Democrat health spokesman Jim Hume said the examination of how boards implement the SMC's decisions had "offered up some troubling findings, particularly that a quarter of recommended medicines do not make health boards' prescribing list".
He said: "This needs to be tackled, as does the process for applying for new drugs which aren't available on the NHS.
"It cannot be the case that those who shout the loudest or know the most about the system are most likely to gain."
Scottish Conservative health spokesman Jackson Carlaw said: "We welcome the general recommendations to fix some of the long-term problems in patients getting access to medicines on the NHS, greater transparency and a new policy for ultra-orphan drugs.
"However, we will also be watching closely to see how the Scottish government reacts to proposals to end the 'postcode lottery' around individual patient requests for medicines which are not routinely available.
"For too long, there has been a clear lack of information and consistency with how these requests are handled in the 14 different NHS boards."