Holocaust Educational Trust gets £500,00 for Auschwitz visits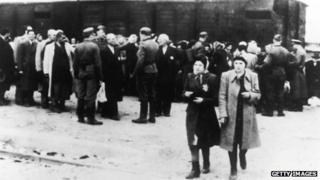 More than £500,000 is to be awarded to a scheme which gives schoolchildren the chance to visit the site of the Auschwitz concentration camp.
The Scottish government announced the funding for the Holocaust Educational Trust, which was set up in 1988.
It will allow two youngsters from every school and college in Scotland to go to the site in Poland and hear the testimony of a Holocaust survivor.
More than 1,000 Scottish students have taken part in the project to date.
The Auschwitz-Birkenau concentration camp in modern day Poland was where more than a million people, most of them Jews, were killed by the Nazis during the course of World War II.
The Lessons from Auschwitz project aims to develop young people's understanding of the possible consequences of prejudice and racism in society.
First Minister Alex Salmond said: "It is right that we continue to fund these learning opportunities to ensure that as a society we never become complacent when regarding the dangers of prejudice, intolerance, discrimination and hatred."
'Never forget'
The scheme will receive £510,000 of further funding over the next two years.
University student Mhiara Mackenzie took part in Lessons from Auschwitz in 2009.
She said: "Participating in the project was a life-changing experience, one that I will never forget.
"Seeing Auschwitz-Birkenau with my own eyes made me appreciate how much people suffered during the Holocaust."
The chief executive of the Holocaust Educational Trust, Karen Pollock, said: "We are delighted that the Scottish government will continue to fund our Lessons from Auschwitz Project.