Scottish Parliament pays tribute to Aberdeen MSP Brian Adam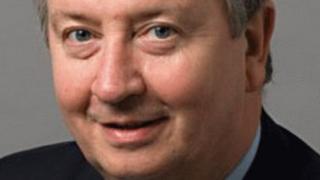 Holyrood has paid tribute to SNP MSP Brian Adam who died last week from cancer at the age of 64.
Leaders from across the political divide praised his contribution to Scottish politics and his bravery in the face of illness.
Mr Adam's wife and five children attended the special motion of condolence, on the day before his funeral, to be held in Aberdeen.
Mr Adam was elected to Holyrood in 1999 and was a constituency MSP for Donside.
Holyrood's Presiding Officer Tricia Marwick said she had "treasured Brian Adam both as a friend and as a colleague".
She added: "He was admired, he was respected and he was loved. We will all miss him, and our parliament will be the poorer without him."
Mr Salmond reflected on Mr Adam's political career, which began in local government in Aberdeen, before he was elected as a regional MSP for the North East in 1999.
He was re-elected as a constituency member in 2003 and 2007.
Mr Adam also served as the minister for parliamentary business and SNP chief whip from May 2011 until September last year.
'Do your best'
Mr Salmond said Mr Adam's consensual approach had proved to be a "priceless resource" during his time as chief whip when the SNP had a minority government.
He said: "Brian was a great source of support for new members. He would say only ever promise to do your best.
"I know this chamber would agree that Brian always did his best and every single one of us are in his debt."
Speaking for Scottish Labour, leader Johann Lamont commended Mr Adam's courage and strength of character for continuing to contribute to the world of politics despite his illness.
Conservative leader Ruth Davidson agreed Mr Adam's "exceptional abilities" as chief whip had helped maintain the minority SNP government.
Liberal Democrat leader Willie Rennie said: "What impressed me most throughout was that he managed to remain a good and decent man, a man his family and friends will forever be proud of."
Speaking for the Greens and independent MSPs, Patrick Harvie said Mr Adam would be remembered as "helpful, considerate, warm, friendly and approachable".
Educated in the north east at Keith Grammar School, Mr Adam studied at Aberdeen University and worked with Glaxo in Montrose and at Aberdeen Royal Infirmary as a biochemist.
He began his political career at Aberdeen District Council in 1988, and became an Aberdeen City councillor in 1995.
Earlier, MSPs from all parties had lined up to sign a book of condolence at the parliament, and the building's flags were flown at half-mast as a mark of respect.
A spokesman for Mr Adam's family stated: "We have been deeply touched by all of the messages of sympathy and acts of kindness during this difficult time. It has been remarkable to see just how many lives Brian touched."