Primary one obesity 'has been too high' for more than a decade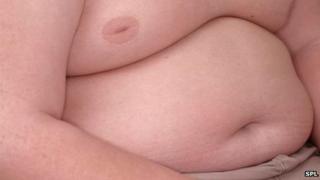 Obesity in Scotland's primary one pupils has remained at "worryingly" high levels for more than a decade, a leading public health consultant said.
New figures for 2011-12 suggest about 15% of children in the age group were clinically overweight or obese.
The figures have remained at around the same level since 2000.
Public health medicine consultant Dr Rachael Wood warned the consistently high figures were "undoubtedly of concern" and needed tackling.
"In some ways it's good news, in that the big increases we were seeing in the 90s have stabilised," she said.
"But they have stabilised at too high a level. We are talking about a threshold where the weight will have impact on children's life and future health.
"That's what we need to tackle. It's a difficult thing to shift."
She added that research suggested that diet was improving, but that children were still consuming too much sugar and saturated fat.
A total of 52,139 children of primary one age were weighed and measured for the study of body mass index statistics.
The statistics showed that 14.9% of the age group were overweight, obese or severely obese.
Childhood obesity can lead to health problems in later life, including heart disease, diabetes, osteoarthritis and increased risk of certain cancers, the report said.
Health inequality
The data also suggested that children in deprived areas were far more likely to be overweight or obese.
In the least deprived areas about 81% of children were classified as healthy weight while in the most deprived areas 74% were classified as healthy weight.
Dr Wood said that the inequality was "quite marked", and warned that it was likely to widen further as the health and diet of children in more affluent areas gradually improved.
The figures also revealed a consistent difference in obesity levels between genders, with boys more likely to be clinically overweight or underweight than girls.
"That is also consistent," Dr Wood said. "We need to understand why - I think at the moment that's not very well understood."
Data for the percentage of children who are underweight was included in the study for the first time.
Lanarkshire had the highest number at risk of being underweight at about 3.4% of primary one pupils, compared with an average of around 1.3%.
'Right direction'
Sport Minister Shona Robison said there was a "small but encouraging" move in the right direction.
She pointed to the small increase in the number of primary one children classed as healthy weight compared with last year.
"A key focus of our action to cut obesity is to focus on early years, where evidence suggests the greatest impact can be made," she said.
"We are supporting child healthy weight interventions and are increasing opportunities for children to get involved in sport and physical activity, through active schools and our target of all primary children having two hours of PE lessons a week."
Figures from 2012 showed that 84% of primary schools were providing two hours of PE per week to all pupils.