Search powers to target knife crime across Scotland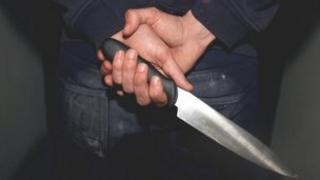 Police officers are to use stop and search powers to target people who carry knives, Scotland's chief constable has said.
Stephen House said he wanted his officers to use the powers when dealing with known knife carriers and violent offenders.
He will outline the strategy at an event in the Easterhouse area of Glasgow.
The number of people killed by knives in Scotland has fallen in recent years.
Mr House will outline Police Scotland's ongoing support for the No Knives, Better Lives network and welcome the 25% reduction in weapon-carrying in pilot areas at the Easterhouse event.
'Key concerns'
He said: "Our focus is keeping people safe and when we listened to what local communities told us were their key concerns, reducing violent crime was one of the top priorities.
"While violent crime levels continue to decrease, we must not be complacent. Stop and search is one of a range of policing tactics we want to use to deter people from carrying knives in the first place.
"There is nothing to fear from stop and search. My officers will target known knife carriers and violent offenders, and be visible and conduct searches in the areas where the community tell us there is likelihood of violence, disorder or knife-carrying.
"The use of stop and search powers is a proactive, intelligence-led policing tactic. Officers will not randomly search individuals or groups without reasonable cause to suspect an offence."
Mr House said progress was being made on knife crime, with courts in Scotland discharging the toughest knife crime sentencing regime in the UK.
Justice Secretary Kenny MacAskill said he believed tough enforcement backed by education and early intervention was the key to tackling knife crime.
He added: "The statistics show this approach is working with the number of people caught carrying an offensive weapon down to its lowest level in 18 years, the number of people killed as a result of a knife down 23% this year, and those caught carrying a knife in Scotland now being punished through the longest prison sentences for over a decade."