Rangers: Police carry out raids over Whyte club purchase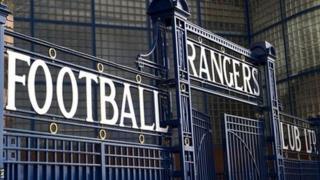 Police have carried out a series of raids relating to the purchase of Rangers Football Club by Craig Whyte from Sir David Murray.
Police Scotland said they had "carried out a number of searches" at addresses in both Scotland and England.
The statement said: "These searches related to both domestic and business premises.
"This remains an ongoing investigation, and no further information can be provided at this stage".
A spokesman for Mr Whyte, who bought the club from former owner Sir David Murray, said Mr Whyte was in Monaco and was puzzled over today's raids, adding that he had no idea what they related to.
The spokesman also said Mr Whyte had consistently offered to speak to the police about their investigation, even as recently as this week, and that they have declined.
Mr Whyte purchased Rangers in May 2011 for £1, taking over Sir David's controlling 85% share holding.
Rangers were subsequently forced into administration then liquidation over non-payment of VAT and National Insurance totalling about £14m.
The court appointed administrators, Duff and Phelps, passed information to the police after a preliminary examination of the company accounts.
It emerged that Mr Whyte was able to fund his takeover by selling future season tickets to Ticketus, leaving the investment firm a key player as administrators searched for new owners.
Ticketus won a High Court challenge to force the businessman to repay £18m plus interest and court costs.
Investigations
Former Rangers' chairman Alastair Johnston also asked the Crown Office to investigate the take-over shortly after the club were placed in administration in February 2012.
There is also a separate police investigation into alleged leaks of confidential information relating to "oldco" Rangers long running tax dispute with HMRC.
Rangers won the so-called Big Tax Case last year. HMRC said they will appeal.
The club has been taken over by a new company after the assets were sold to a consortium run by Charles Green.