Scottish house sales: Surveyors say market 'stable'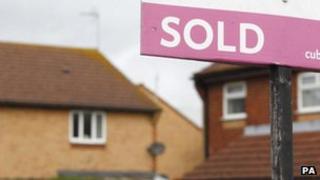 The housing market in Scotland is "broadly stable" and shows the early signs of recovery, according to a survey of chartered surveyors.
The Royal Institution of Chartered Surveyors (Rics) said "both activity and prices could begin to pick-up later in the year".
Ten percent of those surveyed said they expected house prices to rise rather than fall in the coming months.
Rics said the survey suggested the Scottish market was "turning a corner".
While Scottish chartered surveyors reported prices continuing to decline in March, expectations on long-term prices were positive for the first time since May 2011.
Rics Scotland Director Sarah Speirs said: "Sales expectations are positive and have been so in every month since the middle of last year with the sole exception of January when poor weather had a significant impact on the market.
"There is a clear belief that we are reaching a point of improvement and optimism. Activity is still well down on its pre-crisis norm, however, it is encouraging to see a longer term increase predicted for prices across Scotland."
Chris Hall, from Rettie and Co in Edinburgh, said: "The market has shown welcome life in last two months with transactional volumes well up in preferred districts of Edinburgh and Glasgow, notably flats below £400,000 in value.
"Rural sales are still slower and higher value sales similarly but definite signs of optimism in preferred urban locations."
Last month, the survey suggested there was "cautious optimism" about the state of the housing market.