Prince William and Catherine continue Scottish visit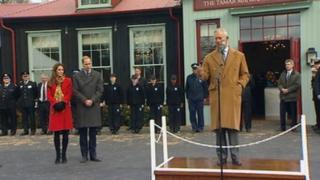 The Duke and Duchess of Cambridge have visited a stately home in Ayrshire on the second day of their trip to Scotland.
They were joined at Dumfries House, near Cumnock, by Prince Charles, who helped raise funds to keep it open to the public in 2007.
The visit marked the opening of the Tamar Manoukin Outdoor Centre.
Hundreds of local people and members of youth groups including the Girl Guides and Scouts turned out for the event.
As Prince Charles prepared to address the crowd, William rubbed his cold hands and told his father to "make it brief".
Assault course
Kate, dressed in a red Armani coat and yellow tartan scarf, smiled as she was handed a "Princess Catherine" doll by one young well-wisher.
Dayna Miller, 11, from Coylton, showed the Duchess the doll which she was given as a Christmas gift from her mother.
She said: "She looked at it and she said 'does my hair look like that?'"
Princes Charles remarked on the freezing conditions, telling the crowd "many people are probably about to pass out".
He said he was "enormously grateful" to the Manoukian Foundation for funding the outdoor centre and its 10-obstacle assault course, but that he would not be attempting it himself.
"I told them I'm far too old," he told the guests.
Dumfries House and its adjoining land were bought by a consortium, led by Prince Charles, which has overseen major renovation work in the last six years.
The outdoor centre is the latest addition and houses up to 52 young people.
Members of the youth services already have the venue booked every weekend until December. Local young people have access to the centre during the week.
The royal visit was being marked by a fly-past of three Typhoons from RAF Leuchars.
The Fife base is close to St Andrews, where William and Catherine first met as students.
William and Catherine, who are known as the Earl and Countess of Strathearn in Scotland, were due to travel to Barrow-in-Furness, Cumbria, to learn about the new Astute Class of nuclear powered submarines being built for the Royal Navy by BAE Systems.
On Thursday the duke and duchess were in Glasgow, where they visited venues being used for the 2014 Commonwealth Games, as well as the Stopover Project homeless shelter and the Donald Dewar Leisure Centre in the Drumchapel area.