'I had the right to know'
On 22 September, 1988, Carol Howden's world fell apart when her four-month-old son, John, died from cot death.
Her devastation deepened when she learned there would be no ashes, after her baby's cremation in Dunfermline.
Carol was told by her funeral director there would be no remains for her to take away, despite the fact her son weighed 22lbs when he died.
She said: "I told him 'I don't care, even if it's the tiniest little pinch of salt, I don't care. I need to have something'. And he said there wouldn't be anything. There would be no ashes whatsoever."
Carol, who 17 at the time, was deeply shocked by the news.
"He was a big lad, he was into three to six months clothes, and nobody could quite believe that there would be nothing, least of all me.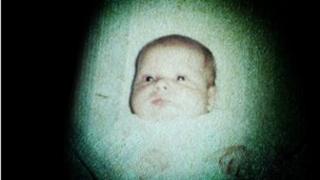 "So when he said that I kind of went blank for a couple of days after that. I think that probably my brain just shut down, too much overload."
The BBC found out that John's ashes had in fact been dispersed on the crematorium grounds.
"How could another human being do that to anybody?" Carol said, when told of the news.
"Yeah I can go down to Dunfermline Crematorium now and know that he's there.
"But I should have had the right to know that for the last 25 years. Every birthday, every anniversary of his death, I've had nothing.
"What gave any stranger the right to decide what to do with my son's ashes? I carried him for nine months, I gave birth to him, I looked after him. He was mine, he was my flesh and blood.
"Nobody else should have the right to decide what to do when it comes to that, nobody."
In a statement, Fife Council said: "This particular cremation was carried out 25 years ago and the records remaining from that time show that John's ashes were scattered in the crematorium gardens.
"This would normally have been at the instruction of the funeral director.
"We can only apologise in retrospect to Ms Howden if this wasn't done in accordance with her wishes."
The BBC was unable to trace the funeral director.
BBC Scotland Investigates: Scotland's Lost Babies will be broadcast at 22.35 on BBC1 Scotland, and afterwards on the BBC iPlayer