Scotland's councils body Cosla says 'don't blame us' for 'bedroom tax'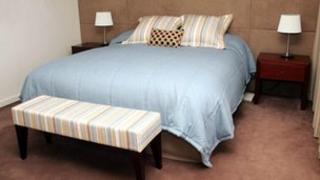 Councils have urged the public not to blame them for carrying out what they have dubbed "extreme and ill thought-out" welfare reforms.
They said they would try to protect the most vulnerable once the so-called "bedroom tax" changes to housing benefit come into force on 1 April.
In reply, the UK government said: "We are giving councils £150m this year so that they can help vulnerable tenants."
But David O'Neill, of council governing body Cosla, is unhappy at the reforms.
He said: "Make no mistake here - no blame whatsoever can be put at the door of Scotland's councils for either introducing these measures or for the devastating impact that this legislation is about to have on our communities."
The controversial reforms include changes to housing benefit that will result in council and housing association tenants having their benefit cut if they are deemed to have a spare bedroom.
Mr O'Neill said that Cosla could "not stand idly by and allow local government's reputation and the credibility of individual councils to take the hit for this because these welfare changes are not of our doing".
'Double whammy'
While he accepted the need for "some change" to the current welfare system, he added: "I am simply pointing out to those who will be hardest hit by these changes that it is not their local council to blame.
"Indeed, councils are going to be hit themselves with the double whammy of the massive increase in people seeking our help at a time of diminishing resources.
"The huge damage it will do to our communities is not something that Cosla can support, and nor should others.
"The UK Government is transferring cost and responsibility for the needs of people on benefit on to local government.
"It is impossible for councils to subsidise the levels of cuts people will experience but we will do everything within our power to support the most vulnerable in our communities."
However, a spokeswoman for the Department for Work and Pensions insisted that changes were required to bring "fairness back to the system - when in Scotland there are many thousands on housing waiting lists or living in overcrowded homes".
She said that, in addition to money to councils for vulnerable tenants: "We're also reforming the Social Fund, because it is complex and poorly targeted, and replacing it with local provision to ensure this money goes to those most in need.
'Fair settlement'
"Giving more powers to councils will mean they can respond more clearly to local needs.
"We're transferring £178.2m a year of funding to local authorities and the Scottish and Welsh governments and that's in addition to administration and start-up costs of over £72m, which represents a fair settlement."
Meanwhile, the Scottish government claims that, as a result of the reforms, people in Scotland could be hit with a cut of £4.5bn in the five years until 2015 - £2bn more than the UK government had originally claimed.
Its new report, which it says was compiled using publicly available data, also estimates that £1bn of the welfare cuts will have a direct impact on children living in Scotland.
The figures are disputed by the Scottish Office.
"These figures from the Scottish government are unofficial, crude and misleading and should be subject to a good deal of scepticism," said a statement.