Scots tourist dies at La Plagne ski resort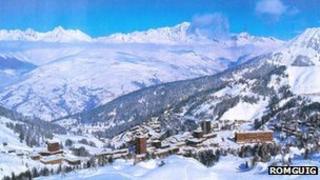 A man from Scotland has been found dead in a stream at a French ski resort after apparently losing his way.
The man, who was said to be aged in his 20s and from Glasgow, was discovered at the La Plagne resort in the Alps.
He was said to have arrived at the resort on Sunday with two friends for a week's holiday.
He left one bar and went missing on his way to another, according to reports in the French media.
A resort official quoted by French newspapers said: "It appears he wanted to take a short cut to save time but he wasn't able to find his way again".
A spokesman for the Foreign Office said: "We are aware of the death of a British national in France. We are providing consular assistance to the family at this difficult time."