Scotland praised on emission targets by climate change report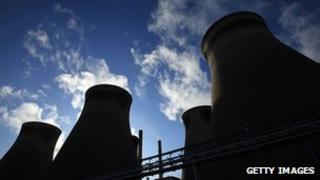 Scotland is making good progress in reaching its climate change emission reduction targets, according to an independent report.
But pressure group Stop Climate Chaos Scotland points out that the UK Committee on Climate Change report said the Scottish government must do more.
The committee found that the annual target was missed by 2% last year.
However, the CCC states that it would have been met if it had not been an exceptionally cold winter.
Overall, the Scottish government has said it wants to cut carbon emissions by 42% by 2020.
Scotland is committed to a series of annual emission reductions targets, which are currently legislated from 2010 to 2027.
In its second progress report to Scottish ministers, the CCC states that, in a normal year for temperature, the target would have been reached.
The fact that it fell short "can be attributed to the exceptionally cold winter months, which increased energy demand for heating, particularly in the residential sector".
'Low-carbon economy'
CCC chief executive David Kennedy said that it was more important that there had been underlying progress in implementing low-carbon policy measures and that, in this respect, Scotland had performed well across most sectors.
"Scotland has made good progress in delivering on emission reduction measures to date," he said.
"This lays the foundations for meeting ambitious Scottish emissions targets and building a low-carbon economy in Scotland with the benefits that this will bring.
"It is important that the Scottish government now focuses on fully developing its policy proposals and ensuring these and existing policies are delivered to their full potential."
The reports states that:
Scotland continues to lead the UK on renewable power with 36% of electricity consumption met from renewable energy, exceeding the 31% target and above the UK's 9%
Setting a 2030 decarbonisation target has provided longer-term certainty for the power sector
Steady improvements in the insulation of homes has led to loft insulation rates more than doubling from 2008-09 to 2011-12
Waste targets have been legislated for ahead of EU requirements, with Zero Waste Scotland set up to help deliver targets
Tree planting rates have been increased to close to target level, with proposals to increase the amount of Scottish timber being used in the construction and refurbishment of buildings
£1.7m of peatland restoration has been confirmed for 2012-15.
Opposition parties complained in January that Holyrood's SNP administration had failed to meet targets and needed to look again at policies across all departments.
The CCC recommends "a significant increase in effort in developing and implementing existing policies in Scotland".
However, the report warns that "meeting targets to 2020 will continue to be difficult unless the EU moves to a 30% target for 2020".
"Without this, even implementing all of the proposed policies will not be enough to meet targets," it adds.
"Through the 2020s, the Scottish government has set out a package of policies and proposals that looks feasible, but there is considerable uncertainty over how exactly it can be delivered."
'More action'
That point was highlighted by Tom Ballantine, chairman of Stop Climate Chaos Scotland.
"While we welcome the areas where progress to meet targets has been made, we share the concerns that the UK CCC latest report flags up of 'considerable uncertainty' in the Scottish government's draft climate plan and the need to increase the rate of policy implementation if we are to deliver our climate targets," Mr Ballantine said.
"The independent watchdog emphasises the continued reliance ministers place on the EU increasing its climate ambition, following previous warnings that the government needs to come up with more action here in Scotland.
"The report echoes the strong evidence heard by four committees in the Scottish Parliament that the government's draft plan does not provide the step change in effort the climate change committee has previously called for and is too reliant on weak proposals, rather than strong commitments to action."