Wrong meat in curries in Scotland is 'widespread practice'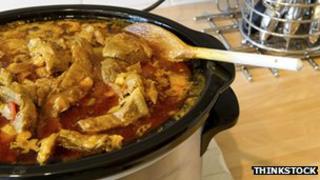 A leading bacteriologist has said he believes the practice of substituting lamb with beef is widespread in Indian restaurants and takeaways in Scotland.
Professor Hugh Pennington was speaking after a report, published in the Sunday Mail, said low quality beef was passed off as lamb in one in three curries tested by the Food Standards Agency.
Prof Pennington said he had been aware of the issue for years.
He said it was potentially a bigger scandal than the use of horsemeat.
The Scottish Food Enforcement Liaison Committee - which is part of the FSA - carried out 129 tests in Indian restaurants and takeaways north of the border.
It said cheap beef was passed off as lamb in 46 of those samples. In 33 of those, there was no lamb in the dishes, while the remaining 13 used some lamb and cheap cuts of beef.
The report, which was completed at the end of last year, did not identify the premises which had been surveyed.
It said: "The results from the survey confirm that a significant proportion of lamb-based curries offered for sale in Indian, and similar style, restaurants and takeaways were falsely described as they contained either no lamb, or a mixture of lamb and other meat.
"The sale of such curries contravenes the Food Safety Act and the Food Labelling Regulations.
"These results confirm that the misdescription of lamb-based meals among Indian and similar style catering premises is an ongoing issue."
'Grander scale'
Hugh Pennington, emeritus professor of bacteriology at the University of Aberdeen, told the BBC: "There's been intelligence about it for a number of years, so there's nothing new about it.
"Quite a large amount of testing has been done, which has shown the scale of the problem.
"It's a bit like the horsemeat issue - it's fraud. Rather than one or two traders in Europe defrauding people, this is local and on a grander scale."
Prof Pennington said the beef would not be dangerous if it was from a reputable source and was cooked properly.
But he added: "It raises questions, not just about fraud, but also other issues. How good are their practices in the kitchen, if they're defrauding customers - how safe are they in other aspects?"
"So I think the local authorities, who are primarily responsible for regulation - although the Food Standards Agency has an overarching responsibility - have to come down on these premises hard."
He called for the premises to be identified to allow customers to make their own choices.