Network Rail scheme to highlight rail trespass dangers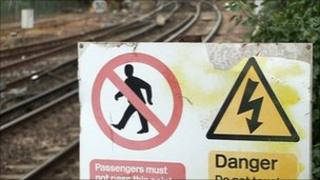 A new scheme is being launched aimed at discouraging children and young people from trespassing on the railways.
The Scottish Youth Theatre will help rail authorities and local councils highlight the dangers.
It is the largest youth awareness-raising campaign ever mounted by the rail industry in Scotland.
It coincides with the electrification of the Edinburgh to Glasgow Queen Street line and the line between Glasgow and Cumbernauld.
Network Rail said it wanted to stress the increased dangers of trespassing on the tracks.
The project, which is being launched in Glasgow, will target children as young as three.
The Scottish Youth Theatre will help deliver special workshops on the dangers of misusing the railway, while Young Scot will use social media to get the safety message across.
Potential dangers
Mary McCluskey, artistic director of the theatre, said: "Scottish Youth Theatre will deliver around 90 separate workshops for three years to 18 years, by visiting schools and youth groups.
"The workshops will use theatre arts based techniques to explore and to promote awareness of potential dangers, exploring the decision-making process and the potential hazards associated with making a hasty or wrong decision.
"The understanding, self-awareness and skills learned in these workshops will also lead to improved decision making capacities in all aspects of a young person's life."
Local councils and British Transport Police are also involved.
David Simpson, Network Rail route managing director for Scotland, said: "The partnership we are launching today will allow us to make sure young people living in the communities alongside the railway fully understand the dangers of misusing it, especially in those areas where we are electrifying lines for the first time."
Young Scot is also implementing a Rail Ambassador scheme which will see young people promoting the project in their communities and delivering awareness sessions.