Corroboration 'not panacea for rape victims', says Kenny MacAskill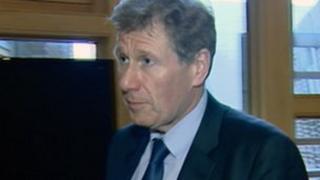 The Justice Secretary has insisted it is "absolutely right" to do away with a centuries-old requirement for evidence in court to come from two sources.
But abolishing the need for corroboration by itself will not help improve rape conviction rates, Kenny MacAskill warned.
Other countries had "similar problems" with low conviction rates for sex offences.
Yet they do not need to have evidence from two sources, he pointed out.
"I am under no illusion that removing the requirement for corroboration will of itself solve the problem of Scotland's low conviction rate for rape," MacAskill told a Rape Crisis conference in Glasgow.
"That is why we are working with all our partners to make sure that victims of sexual crime have the confidence to come forward, that the criminal justice system serves these victims as well as it can and to change attitudes so that rape and sexual abuse are seen by everyone as the utterly abhorrent crimes they are."
'Traumatic experiences'
Mr MacAskill was responding to a rape victim who called for the requirement for corroboration to be removed from historic cases.
The Justice Secretary said it was clear that organisations representing victims "share our view that the requirement for corroboration can represent a barrier to justice".
"I have heard first-hand today from people who have suffered deeply traumatic experiences and feel that this outdated requirement has denied them the opportunity to see those responsible brought to justice," he said.
"This reinforces my view that the Scottish government is absolutely right to abolish the requirement for corroboration."
In a wide-ranging review of Scots law and practice, leading judge Lord Carloway recommended doing away with the requirement for corroboration.
Research by the Crown Office, as part of the review, found 141 cases were reported to the National Sex Crimes Unit in the second half of 2010 where no proceedings were taken.
Additional safeguards
Fiscals believe that 95 of these cases could have gone to trial if corroborative evidence was not needed.
The Scottish government signalled last year that it intends to press ahead with ending the need for corroboration, with ministers consulting on what additional safeguards would be needed.
Sandy Brindley, national co-ordinator of Rape Crisis Scotland, said the requirement to have evidence from two sources is "an unacceptable barrier to justice for rape survivors" as there are rarely any witnesses to rape and physical injuries are uncommon.
"Corroboration in the vast majority of rapes is extremely difficult to find," she said.
"Crown Office figures suggest only around 25% of reported rapes get to court. This can have a devastating impact.
"We are also very concerned that it means there is a real possibility of guilty men walking free."