Shaniece Dobson jailed for killing Sean Martin in Coatbridge
25 February 2013

From the section

Scotland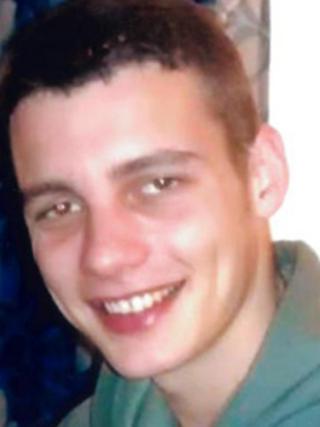 A woman has been jailed for 10 years for stabbing her boyfriend to death in front of his younger brother and sister.
Shaniece Dobson was originally charged with murdering Sean Martin at her flat in Jackson Court, Coatbridge.
But a jury last month found her guilty of the lesser charge of culpable homicide.
Passing sentence on Monday, a judge said the fatal attack had been "deliberate and wicked".
The trial had heard how Dobson armed herself with a large knife after the victim contacted his ex-girlfriend.
She plunged the weapon into 21-year-old Mr Martin's chest, damaging his lungs, windpipe and a main artery.
Lord Boyd of Duncansby told Dobson: "For no reason that this court can discern, exactly one year ago today you deliberately walked into the kitchen of your flat, armed yourself with a knife, walked back out into the living room and stabbed Sean Martin in the chest using such force it penetrated his chest cavity to the depth of 17 centimetres."
The judge said: "There is no doubt this was a deliberate and wicked act of the utmost gravity."
Amateur boxer
Lord Boyd said Dobson had chosen to arm herself, and to stab her victim on the part of the body that would inflict maximum damage.
He said it was made all the more shocking that it happened in front of Mr Martin's younger siblings Ann, 17, and Paul, 15.
The judge said he had read statements from members of the victim's family which made it clear they were proud of him, with Mr Martin's father telling of his son's success as an amateur boxer.
Lord Boyd said: "Nothing I can do can compensate them for their loss."
The judge also ordered that Dobson should be kept under supervision for a further year after the custodial sentence.
Dobson was said to have flown into a rage after catching Mr Martin on the phone to an ex-girlfriend. It emerged he had been arranging for her to take his dog.
Mr Martin collapsed and died within minutes of the fatal attack after suffering massive blood loss.
Barefoot and covered in her boyfriend's blood, Dobson went to a friend's flat in the tower block, where she was later detained by police.
She had originally offered to plead guilty to culpable homicide. The Crown rejected the plea and she stood trial for murder, but was convicted of the lesser crime by a second jury after a first trial was abandoned.
The initial hearing was halted after a member of the public took a juror's place during proceedings.
Dobson's defence counsel, Frances McMenamin QC, said: "She is profoundly remorseful of her actions."
She said Dobson had started drinking at 14 and progressed to abusing drugs, including valium, cannabis and cocaine. At one stage she was drinking a bottle of vodka and two to four bottles of cider a day.
She said that in the weeks before the stabbing Dobson had been alcohol-free, although she was abusing non-prescribed valium in a bid to cope with withdrawal symptoms.
But on the day of the killing they had got together with others and Dobson had succumbed to the temptation to take excessive amounts of alcohol, drinking wine and cider and abusing drugs.
Miss McMenamin said: "She still has no recollection of going into the kitchen and seizing the knife."