It's electric - Rouken Glen lights up a rainy night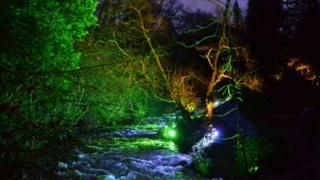 The Electric Glen light show at Rouken Glen Park in East Renfrewshire sold out its 10,000 tickets in short order. The appetite for event, running over five nights, confirmed the organisers' suspicions that families were looking for something different and special to do on a winter's evening.
The instructions were to wrap up warm, wear waterproof jackets and sensible outdoor shoes.
"It's a night time outdoor event and we need to be prepared for all weathers. It's all part of what makes the experience such a unique one."
The torrential downpour which greeted the opening night of Electric Glen was not "unique" for Scotland in February but it was a swift reminder of why there are not too many outdoor events held after dark in public parks at this time of year.
Despite the rain, the crowds fixed their faces against the inclement weather and prepared to enjoy the "atmospheric" light and sound experience.
The transformation of part of the 140 acre park, about six miles south of Glasgow city centre, is impressive.
The light show starts at the boating pond before visitors are led down into the glen.
The waterfall, which brings the burn down from the hills above Newton Mearns, is in full spate and looks magnificent illuminated by the spotlights.
Down in the glen there is sound piped in which tells of the geological and social history the park.
On hand to explain some of the amazing rock formations is the spirit of Walter Crum - who died 150 years ago.
He was a Scottish chemist and businessman, who owned a nearby dye printing works and the lands of Rouken Glen.
A modern-day Crum tells the assembled crowd that 325 million years ago Scotland was near the equator. The irony seems to be intentional.
It is more than 100 years since the lands which now make up the park were gifted to the people of the area and Rouken Glen remains an extremely popular venue all year round.
Full marks to the actors of The Walking Theatre Company who, on a small stage above a quagmire, were trying to act out a mini-play set in 1910 which explained how in those days there were regular entertainments after dark. Though maybe not in February.
As the rain swept viciously into their faces, one actress, again with a knowing irony, uttered the line: "Why on earth would anyone want to be indoors on a night like this?"
Why indeed?