'East-west split' claim by union on Scottish education
8 February 2013

From the section

Scotland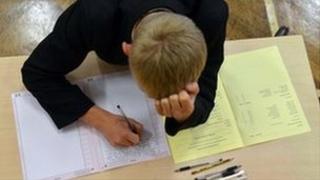 The University and College Union (UCU) has published figures which it said show an east-west split in Scotland's levels of educational attainment.
Areas in the west of Scotland, it found, had more people with no formal qualifications than those in the east.
The worst-performing area of Glasgow had six times the number of unqualified people as the best area, in the north-east.
The union claimed education is being "rationed" in parts of Scotland.
The three least qualified areas, by parliamentary constituency, were Glasgow North East, Glasgow East, and Airdrie and Shotts.
The three constituencies with the lowest proportion of unqualified residents were West Aberdeenshire and Kincardine, North East Fife, and Dunfermline and West Fife.
Union official Mary Senior said: "This research shows that access to the benefits that education brings is heavily rationed in Scotland today with some constituencies in the west having almost seven times more people without qualifications than others in the east of Scotland.
"We live in a fast-changing knowledge economy where education is vital to improving employment chances, life chances and for society.
"It is this knowledge economy that will drive economic growth and enhance social mobility. Politicians must continue to increase access to educational opportunities."
Glasgow City Council, where many of the poorest figures were recorded, has claimed that they do not accurately reflect the current situation.
A spokeswoman said: "These are the same flawed figures that we disputed two years ago and our opinion remains the same - they do not reflect the true picture of education attainment in Glasgow today.
"Some of the adults included in the statistics will be over the age of 40 and at school when examinations were not universally available to them.
"Just this week we have published the positive destination figures for our young people and they are at all time high."