'Barrier-breaking' music festival Tectonics heads for Glasgow from Iceland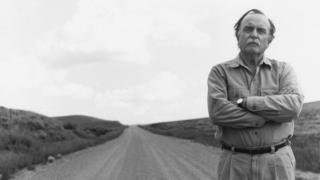 A festival billed as the first of its kind in the UK will showcase the likes of American experimental composer Alvin Lucier and Scottish indie rocker Aidan Moffat in Glasgow on 11 and 12 May.
It aims to break down barriers between different musical genres.
The Tectonics Festival was launched last year in Reykjavik by Ilan Volkov, principal chief conductor of the BBC Scottish Symphony Orchestra.
This year's event will take place in both Iceland, in April, then Glasgow.
The BBC SSO will host the Scottish leg of the event - at Glasgow's City Halls and Old Fruitmarket - that celebrates the work of Lucier throughout the weekend.
It also features a rare performance by the composer himself, including a world premier of a new work for two electric guitars, Criss-Cross, and Nothing is Real, where notes from The Beatles' Strawberry Fields Forever resonate from inside an amplified teapot.
Lucier has become renowned for his installations as much as his composing and among those being on view during the festival will be one in which table tennis balls are suspended in motion by the sound from loudspeakers.
World premiers
Former Arab Strap frontman Moffat, who himself last year contributed an installation to the Glasgow International Festival of Visual Art, plays a late-night gig with Stuart Braithwaite, guitarist from Glasgow indie band Mogwai.
They will be joined by Hildur Gudnadottir, an Icelandic cellist and composer who has previously worked with experimental rockers Throbbing Gristle.
Australian composer and multi-instrumentalist Oren Ambarchi, drummer Joe Talia, electronic musician James Rushford and members of the BBC SSO are also on the bill, with a DJ set from Stephen Pastel from Glasgow indie band The Pastels.
The festival also features world premiers by Canada-born Chiyoko Szlavnics and Romanian-born Iancu Dumitrescu and his wife, Ana-Maria Avram.
Glasgow-based composers David Fennessy, Martin Suckling and John de Simone have each been commissioned by the BBC to write a new work for the festival.
Finnish-English vocalist Hanna Tuulikki and American guitarist Stephen O'Malley, sometimes known as SOMA, also make appearances.
'Perfect city'
During Volkov's association with the BBC SSO, the orchestra has performed many experimental works, most recently showcasing the music of John Cage last summer.
The Isreal-born conductor, who is also music director and principal conductor of the Iceland Symphony Orchestra, said: "Glasgow is the perfect city for a project of this kind.
"The audience are open and ready for new experiences and surprises.
"It's important for me that Glasgow-based artists and musicians are part of the line-up. Having worked in Glasgow for over 10 years, I'm aware of the incredible range of musicians and artists in the city.
"It's also a very personal project for me as I have worked with many of the guest artists in other situations and some, like Alvin Lucier, are heroes of mine."
Performances from Tectonics Glasgow will be recorded for future broadcast on BBC Radio 3's Hear and Now and Late Junction.