Celtic Connections hailed another success on 20th anniversary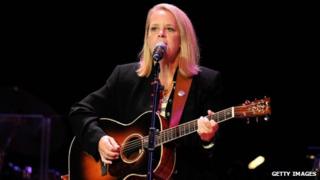 Celtic Connections organisers have hailed its 20th anniversary programme a success, with attendances again topping 100,000 and grossing £1m ticket sales.
The 18-day festival of world music and folk included 50 sell-out shows in venues around Glasgow.
Artistic director Donald Shaw thanked musicians and audiences for "making this year another brilliant success".
"We've witnessed some unique one-off collaborations and fantastic performances," he said.
About 2,100 artists from around the world performed in 20 venues around the city.
The 2013 festival included a tribute to Dundee singer-songwriter Michael Marra and performances by The Mavericks, Mary Chapin Carpenter, Old Crow Medicine Show, Salif Keita, Kate Rusby, Carlos Nunez, Dougie MacLean, Roddy Hart and the Lonesome Fire, Le Mystere des Voix Bulgares and Aimee Mann.
Councillor Archie Graham, chairman of Glasgow Life, said: "Celtic Connections continues to go from strength to strength and this, its 20th year, has been no exception.
Economic boost
"This year's festival has brought some of the finest musicians to Glasgow for some very special performances.
"The city has come alive with festival goers from all over the world to enjoy some of the very best home-grown and international talent.
"Celtic Connections provides a significant economic boost for the city and brings some much needed cheer to cold winter nights.
"We're already looking forward to the festival coming of age in 2014 as we celebrate 21 glorious years of the world's best folk and world music showcase."
Each year, six artists are chosen by a panel of judges from 60 acts performing at the Danny Kyle Open Stage to perform as support acts at the following year's festival.
This year's winners were Gria, Graham Lowand Jack Kirkpatrick, Taylor & Leigh, Genesse, Elliot Morris and Mulk.