Scotland's most polluted streets revealed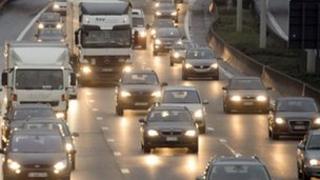 Parts of Scotland are failing to meet targets on air pollution, according to figures highlighted by an environmental campaign group.
Friends of the Earth Scotland (FoES) has drawn up a list of the most polluted streets in the country.
It said Scotland has yet to meet air quality targets that should have been achieved by 2005, in spite of the risks to health.
The government said "most of Scotland" was meeting the targets.
FoES director Dr Richard Dixon said: "Air pollution is the biggest environmental threat to people's health, killing off at least 10 times the number who die in road crashes every year.
"Some of these targets were set in the late 90s and supposed to be met in 2005, yet we still have air pollution at dangerous levels on streets across Scotland.
"Both the Scottish Government and our local authorities have failed to take this issue seriously and, between them, they need to do more than make promises they don't deliver."
Dr Dixon has drawn up a "top 10" of Scotland's most polluted streets. They were part of a group of 15 locations that failed to meet the EU and UK standard of 40 micrograms per cubic metre of nitrogen dioxide.
By this measure, the centre of Glasgow returned the worst readings.
A separate measure, based on particulate matter, showed 10 locations failing to meet the Scottish air quality objective. This target was to have been met in 2010.
Dr Dixon claimed the results indicated a problem for the 2014 Commonwealth Games.
"Glasgow has a particular problem, with heavy traffic and tall buildings combining to create a polluted city centre, and the government predicts these problems will not be fixed until after 2020," he said.
"This is bad news for the athletes and visitors who will come to Glasgow for next year's Commonwealth Games."
The Scottish government has accepted localised problems remain but highlighted a general improvement in air quality.
A statement said: "Over recent decades, there have been significant reductions in pollution emissions through tighter industrial regulation, improved fuel quality, cleaner vehicles and an increased focus on sustainable transport.
"We recognise that we must build on achievements to date and continue to take action to improve air quality across Scotland."
On the question of pollution in Glasgow, the government added: "A number of measures are being implemented to reduce air pollution in the city, including a commitment from Glasgow City Council to introduce and enforce Low Emission Zones at the Commonwealth Games venues in 2014."