Rush to log on to online courses at Edinburgh University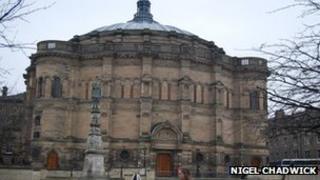 More than 300,000 people around the world have signed up for online courses run by Edinburgh University.
The number signing up to the courses has risen 50% in less than two months.
For each of the 30,000 students on campus, another 10 are virtual students taking part in the free Massive Open Online Courses called MOOCs.
No entry requirements are necessary for the part-time taster courses covering subjects such as philosophy, equine nutrition and astrobiology.
The courses are offered as part of the wider Coursera consortium, set up by US academics to provide web-based undergraduate-level courses to anyone who wants to do them.
Edinburgh, which joined the consortium last summer, is offering six courses across the humanities, engineering and science.
Prof Sir Timothy O'Shea, university principal, said: "As someone who has researched in this area for more than 40 years, I am thrilled to bits that we have been able to attract so many learners to experience what Edinburgh has to offer.
"Online learning is an increasingly important method of teaching, opening up high-quality education opportunities to people around the world.
"I am delighted that these free courses have caught the imagination of the public and they also act as a great complement to our rapidly expanding efforts in providing other forms of online teaching, including full postgraduate and other distance-learning courses."