Single Scottish police force faces custody 'challenges'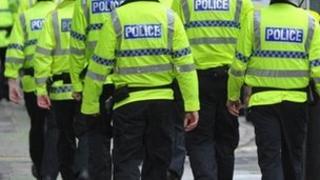 Scotland's new national police force faces "challenges" standardising custody handling, a report has found.
HM Inspectorate of Constabulary for Scotland said the eight regional forces, which are being merged from 1 April, had different approaches to risk management, staffing and healthcare.
The way custody suites were designed and managed also differed.
In one location, there was no female officer despite there being female prisoners.
One force had no dedicated custody sergeant and the ratio of staff to prisoners "varied widely" across the country.
Aberdeen was singled out for having a "high-risk" approach. The lack of call buttons in cells meant staff made checks every half hour.
Money has been approved to deliver a new custody facility in the city, but the report recommended an interim solution should be found.
About 170 detainees were seen during a series of unannounced weekend inspections in each of the force areas.
'Professional staff'
HM Inspector of Constabulary in Scotland, Andrew Laing, said: "What this inspection shows us is that people detained in police custody in Scotland are treated with dignity and respect by professional staff, and they have their care and welfare needs met.
"Against this positive picture there are a number of differences in approach between the current eight forces which will present the new single service with some challenges along with significant opportunities for standardisation, and the benefit that brings."
Mr Laing added that this would include standardising the differing approaches to risk management, staffing models, training and the provision of healthcare, as well as computer-based custody management systems.
Calum Steele, of the Scottish Police Federation, said investment was needed if things were to improve.
"The reality is that most of the police stations that hold custodies nowadays weren't built with the intention of the modern custody standards that are required, and it's simply money," he said.
"The biggest risk to the police service and indeed a single police officer is the care and custody of prisoners.
"The last thing any of my members want is to be standing in front of a fatal accident inquiry having to give evidence as a consequence of death - and the way that is mitigated is through property and investment."