Apprentice scheme for young Scots fishermen of future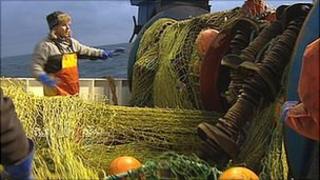 An apprentice scheme to give young people the chance to land jobs in the Scottish fishing industry has been launched.
It offers those aged 16 to 24 an entry route into a career on a trawler, with 20 places each year planned.
Scottish Fisheries Secretary Richard Lochhead said new entrants were the "life blood" of the industry.
He said: "We need to ensure that the fleet can access the skills and manpower needed to be successful."
Mr Lochhead explained: "The launch of the new apprenticeship scheme marks a very positive start to the year for Scottish fishing.
"The fishing industry is hugely important to our coastal communities and this investment in modern apprenticeships demonstrates how government and industry are working together in close partnership to ensure fishing continues to be a viable way of life for many generations to come."
Derek Cardno, marine safety and training officer for the Scottish Fishermen's Federation (SFF), said: "The apprenticeship now gives industry the opportunity to attract new entrants into the industry.
"For decades it has been the fishing communities where traditionally crews have come from, but now we can offer school leavers an exciting structured career in a very dynamic industry."