Scottish dippers take the festive plunge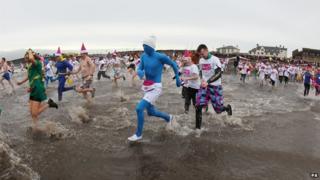 Brave "dippers" have been taking bracing festive plunges into the seas around Scotland on Boxing Day.
In cold but bright conditions, dozens of people raced into the waves at the annual Nippy Dipper in Aberdeen to raise money for charity.
At Leven, in Fife, firefighters, families and friends took the plunge into icy waters.
And in Ayrshire, a Dip with a Nip took place in Prestwick in aid of support for childhood cancer.