Glorious Twelfth to start on 13th due to custom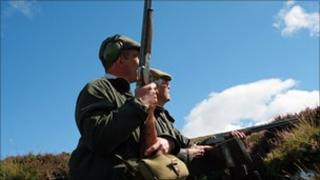 The start of the grouse shooting season, often referred to as The Glorious Twelfth, has been put back a day because it has fallen on a Sunday.
Shooting parties will have to wait until 13 August this year before heading onto Scotland's grouse moors, due to a Scottish custom.
In England, Wales and Northern Ireland it is an offence to shoot grouse on a Sunday.
In Scotland there are no statutory restrictions.
Grouse shooting has been estimated to bring £30m to the rural economy.
Prospects for this season are mixed, according to the British Association for Shooting and Conservation (BASC).
Grouse chicks on many moors hatched earlier than usual and had to survive the snows of late spring, followed by the unusually heavy rains of summer.
Good prospects
Colin Shedden, BASC Scotland director, said: "We entered the winter with a good stock, it was a benign, soft, mild winter and then what happened was heavy rain came in April, May and June as well.
"This has impacted on the breeding success of the grouse but there are a number of areas where prospects are still looking good and we are mainly talking about the east of the country, slightly drier than the west.
"So in some areas where there has been good management, good stock of healthy birds, they have survived the atrocious weather.
"Others suffered, it is a mixed bag."
The season lasts from 12 August to 10 December in Scotland, England and Wales and until 30 November in Northern Ireland.