Sir Chris Hoy is 'Britain's greatest ever sportsman'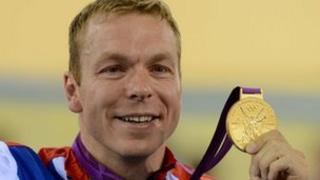 Sir Chris Hoy has been hailed as Britain's greatest-ever sportsman after winning his sixth Olympic gold medal.
The track cyclist became the country's most successful Olympian after riding to victory in the keirin on Tuesday - his second gold of the London games.
Craig Burn, the chief executive of Scottish Cycling, said: "The facts speak for themselves - he is Britain's greatest sportsman of all time."
A second Edinburgh postbox has been painted gold in Sir Chris' honour.
Royal Mail painted a red postbox gold on the corner of Hanover Street and Princes Street last week when Sir Chris, who is from the city, won a gold medal in the team sprint.
The second box - in the capital's Hunter Square - was painted gold on Wednesday morning.
And a new Sir Chris Hoy gold medal postage stamp has also gone on sale to mark his achievement.
The stamp shows an image of the cyclist holding the Union flag over his head after the winning race.
It will be on sale in more than 500 post offices across the UK, including two branches in the Scottish capital.
Speaking on BBC Radio's Good Morning Scotland programme, Mr Burn said Sir Chris was more than worthy of the adulation.
He added: "What an ambassador he is for our sport and for sport in the UK.
"He is a gentleman, he is a true role model and it has not just been for a few years, it has been his entire life, really, since he was a teenager."
Sir Chris' victory in the velodrome on Tuesday evening saw him climb above Sir Steve Redgrave, the five-time Olympic rowing champion, in the number of medals won.
Mr Burn said winning gold at the Commonwealth Games in Glasgow in 2014 would be a fitting end to his cycling career.
He said: "Mentally I'm absolutely 100% confident he will be there. Hopefully his body is fit enough to win gold in Glasgow
"Chris, I am very confident, will be a huge ambassador for our sport for the next 20 or 30 years, and knowing the type of person he is, and his dedication and commitment to cycling, I am fairly confident he will want to put something back into it for a long time to come".
A new Sir Chris Hoy Velodrome is being built in Glasgow ahead of the games, which Mr Burn said would "transform the sport" in Scotland and help a new generation of Scottish cyclists compete at the highest level.
Crowds of supporters watched Sir Chris's victory on a big screen in glorious sunshine in Edinburgh's Festival Square.