Robert Gordon University in Aberdeen reveals SQA exam results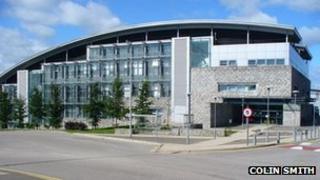 A second university has revealed school exam results to some pupils ahead of their official publication.
Robert Gordon University in Aberdeen blamed a "technical glitch" after emailing 370 candidates on Monday congratulating them on gaining entrance to the university.
The results were not supposed to be known until Tuesday.
Last week a "computer error" allowed some St Andrews University candidates to access their exam results early.
The Scottish Qualifications Authority (SQA), which sent the exam results to universities under embargo, said it was still awaiting "an urgent explanation" from Robert Gordon University (RGU).
An SQA spokesman said: "Sending this email obviously indicates how well or otherwise applicants have done in their SQA examinations.
"SQA results are due to be announced tomorrow. Universities receive results under strict embargo from Ucas (the Universities and Colleges Admissions Service) in advance of general publication, so as to ease the nationwide university entrance process.
"This latest breach, at a particularly stressful time for candidates, is very disappointing and regrettable."
'Resent tomorrow'
He said the SQA would be expressing its frustration in the "strongest possible terms" and had demanded a detailed explanation from the university.
An RGU spokesman blamed the emails on "a technical glitch in the system used to send out mass communications".
He said the SQA was informed as soon as the email was sent out, and that the university had been in dialogue with the authority throughout the day.
The spokesman said: "An email which was scheduled to go out tomorrow to applicants was sent this morning by mistake.
"The email was cancelled as soon as the error was spotted but 370 applicants had already received it.
"An email will be resent tomorrow to all students who have an unconditional offer at the university. RGU would like to apologise for any confusion or anxiety caused by this mistake."