Andy Murray goes for Olympic gold against Federer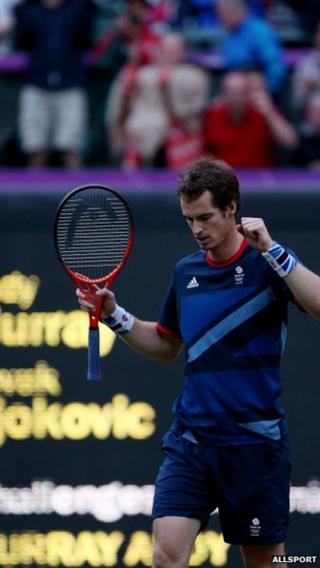 Andy Murray is playing Roger Federer in the Olympic men's singles final, exactly a month after the pair faced each other in the Wimbledon final.
The Scot set himself up for the Federer rematch by beating Novak Djokovic in straight sets in Friday's semi-final.
Federer beat Murray last month to lift his seventh Wimbledon title but this will be their first Olympic final.
Meanwhile, Scotland's sports minister said Scots Olympians were inspiring the next generation of sportsmen and women.
Shona Robison MSP said the achievements of Scotland's medal winners were "firing even more young minds" to achieve all they can in their sport.
In the past week cyclist Sir Chris Hoy, rowers Heather Stanning and Katherine Grainger and canoeist Tim Baillie have all won gold at the London Games.
Glaswegian swimmer Michael Jamieson, Aberdonian canoeist David Florence and Daniel Purvis, a gymnast from Dundee, also secured two silvers and a bronze for Team GB.
Ms Robison said: "I have been lucky enough this week to see some outstanding Team GB performances and see Scottish athletes bring in medals day after day.
"These Olympics have been a success story for Scottish sport with a medal haul so far of four golds, two silvers and a bronze by Scottish athletes.
"Already the number of Scottish medals achieved over the whole of the Beijing Olympics in 2008 has been bettered.
"And from what I have seen in the reaction of the crowds and the images making the news, these golden moments are firing even more young minds to be the best they can be in their sports."
Andy Murray is now guaranteed at least a silver medal, but the 25-year-old from Dunblane said he was desperate to clinch gold in Sunday's final.
He said: "Anybody that knows me knows I won't go into the match happy with just having a silver medal. I go into the match 100% trying to win. I'll give everything I can on the court.
"Now I'm in the final, I have the chance to win a gold medal. I'm not going to have that chance for another four years. So I'll give it everything I can to try to do that."
Big screen
Murray's semi-final against Djokovic lasted two hours exactly, whereas Federer needed four hours and 26 minutes to beat Juan Martin del Potro and later admitted to being "extremely drained".
The Scot has also reached the final of the mixed doubles, after he and Laura Robson beat Germany's Lisicki and Kas.
The men's singles final is being shown on a big screen at Edinburgh's Festival Square, at Scotland's official London 2012 live site.