Milk price cuts: Scottish government unveils action plan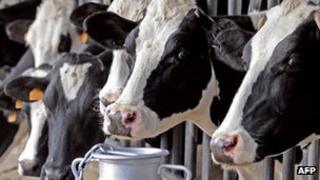 An action plan to tackle pricing issues in the dairy industry has been unveiled by the Scottish government.
The five-point plan was announced following a meeting between Rural Affairs Secretary Richard Lochhead and NFU Scotland officials.
Mr Lochhead has also called for a summit meeting with UK and Welsh colleagues.
Dairy farmers across the UK are angry at cuts to the price they are paid for milk.
On Wednesday, more than 2,500 dairy farmers gathered in London to protest against the reductions, which they have warned are making their businesses unsustainable during a time of rising costs.
Cuts of up to 2p per litre have recently been announced by major milk processors - including Britain's biggest fresh milk firm Robert Wiseman - which came on top of similar reductions announced in the spring.
They have blamed the cuts on a collapse in the value of cream.
But NFU Scotland has warned the reductions will force many farmers out of business, pushing up the price of milk for consumers in the long term.
Mr Lochhead's plan for finding a solution includes calling for a ministerial summit to discuss the current situation ahead of the Royal Welsh Show at the end of July.
It also calls for the establishment of a timetable for consulting on legislation, asking agriculture minister Jim Paice to appoint an independent person to assist with the current negotiations between producers and processors and writing to retailers demanding clarity for consumers about how much producers receive for their milk.
And Mr Lochhead proposes commissioning a long-term strategic review to establish where the dairy industry wants to be in ten years and how to get there, and ensuring the Scottish Agricultural Organisation Society has enough resources to bring forward their work on producer organisations and co-operatives.
Mr Lochhead said: "This afternoon's meeting with the NFUS was constructive but only served to further highlight the need for urgent action to tackle the issue of dairy prices.
"I was left in no doubt about the anger and frustration our dairy farmers are feeling and I can understand why they feel so aggrieved.
"I've been working hard to find a solution that better meets the needs of our dairy farmers and today's meeting with the NFUS was part of that. We must find a way to maximise the potential of this sector while also ensuring farmers are paid a fair price for a valuable product."
Mr Lochhead said every part of the supply chain had a part to play in finding a solution to the current problem, including retailers and supermarkets.
He added: "We all drink milk and we need the dairy industry to continue and we must not risk letting it crumble. I know that consumers are right behind the milk industry."