Violinist Nicola Benedetti attacks school music cuts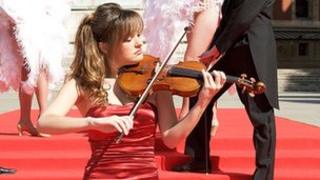 Scottish violinist Nicola Benedetti has attacked the spending squeeze on music tuition in schools.
She said young people needed a cultural identity to replace their obsession with celebrities and in becoming a celebrity.
Benedetti began violin lessons at the age of five and went on to attend the Yehudi Menuhin School in Surrey.
The 25-year-old told the Radio Times: "I'm fiercely furious about the provision of music in schools."
Benedetti secured a £2m, six-album record contract after winning BBC Young Musician of the Year at 16 and has risen to international fame.
She has also been involved in supporting the Big Noise orchestra in Raploch, Stirling - inspired by the Venezuelan El Sistema scheme to help poorer children.
The violinist said: "So many people up and down the country are trying to create a better foundation for musical education.
"But decisions have been made, especially in the light of funding cuts, that are, I think, catastrophic to our future as a nation."
The violinist added: "If children don't have very strong parenting and don't have an activity to replace the aimlessness that can go on after school hours, they end up accepting what's shoved in their face.
"Which is celebrity culture and this obsessive chasing to become famous. But famous for what?"
A recent survey by the EIS teaching union indicated that three-quarters of Scotland's councils now charge up to £340 a year for music tuition, with charges often subsidised.
The Scottish government said it recognised Ms Benedetti's commitment to helping young people enjoy making music.
A spokesman added: "It is worth noting that the detail of what is taught in schools is decided by local authorities and schools themselves.
"Music is an important part of Curriculum for Excellence which aims to provide widespread opportunities for pupils to learn and experience music at school."