Concern over Scottish marine protection plan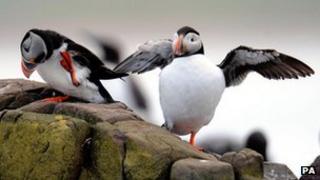 Plans to protect the marine environment have so far left out seabirds, minke whales and bottle-nosed dolphins, conservationists have said.
The Scottish government is committed to creating a network of Marine Protected Areas (MPAs) by the end of 2012.
Two days of "workshops" are being held at Herriot-Watt University in Edinburgh to debate the form of the networks.
RSPB Scotland and the Whale and Dolphin Conservation Society said it was a "once in a lifetime opportunity".
The groups said changes needed to be made before Scottish Natural Heritage submitted its report on the options for MPAs to the Scottish Parliament in December.
'Sharp decline'
Rory Crawford, seabird policy officer for RSPB Scotland, said he was concerned that the promises of the Marine Act had been lost in an ocean of bureaucracy.
He said: "Worryingly, seabird numbers have been in sharp decline in many parts of the country for years now - Shetland and Orkney in particular have seen catastrophic drops in numbers.
"In this context, we would expect the Scottish government to be stepping up to do all it can to conserve such an important asset.
"Instead, we have been left astonished by a glaring omission in our Marine Protected Area network - not a puffin in sight."
Sarah Dolman, WDCS head of policy for Scotland, said: "This is a once in a lifetime opportunity for the Scottish government to produce a coherent network that protects and celebrates our much-loved whales, dolphins and porpoises.
"Scotland's seas are home to some of the most important habitats in northern Europe, we have enough scientific evidence to support this and we should be showcasing these species, instead of side-lining them.
"We have to ask ourselves why these decisions are being made."