London 2012 Festival: Concert starts Olympic festival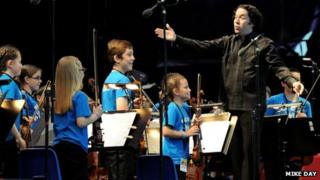 The Raploch housing scheme in Stirling has played host to the opening concert of the London 2012 Festival .
World-famous Venezuelan conductor Gustavo Dudamel conducted the Simon Bolivar Orchestra in front of a crowd of 8,000 in the heart of the estate.
Dudamel is patron of Sistema Scotland, which has been working in Raploch, teaching music to hundreds of children.
Youngsters from the estate's Big Noise orchestra took to the stage to perform with the 200 Venezuelan musicians.
It was announced by Dudamel ahead of the concert that children from Big Noise would travel to Venezuela to work with the Simon Bolivar Orchestra.
The concert marked the official start of the London 2012 Festival, which will count down to the Olympic Games with hundreds of arts and cultural events over the next 12 weeks.
It was broadcast on BBC Four , BBC Radio Scotland and at 22 live sites across the UK.
Since 2008, the children of Raploch have been learning orchestral instruments and playing music together in the Big Noise orchestra.
It is inspired by El Sistema, the Venezuelan project which has transformed the lives of many thousands of children through classical music.
Ruth Mackenzie, London 2012 Festival director, said: "Sistema Scotland - the charity behind Big Noise - sums up beautifully the values of the London 2012 Festival - world class excellence combining the talent of local young people with their hero Gustavo Dudamel and his amazing orchestra from Venezuela."
Richard Holloway, chairman of Sistema Scotland said: "There is no clearer indicator that Raploch has arrived as a major force on the cultural map, than to have a classical concert of this magnitude broadcast live by the BBC.
"This wee housing estate in Stirling has joined the ranks of the Royal Albert Hall, Usher Hall and Royal Festival Hall.
"Who could ever have predicted that?"