Scots given awards in Queen's Birthday Honours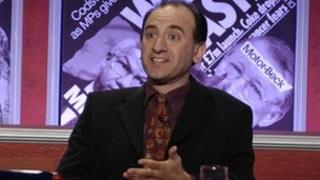 Comedian and writer Armando Iannucci leads the Scots included in the Queen's Birthday Honours list.
The 48-year-old, best known for creating cult comedy The Thick Of It, is honoured with an OBE.
Former Holyrood Presiding Officer George Reid and Malcolm Bruce, president of the Scottish Liberal Democrats, are to be knighted.
Other Scots receiving knighthoods are opera director David McVicar and Glasgow businessman Willie Haughey.
A total of 1,201 people have been recommended for an award in the list. Many have gone to those outside the public eye who make a difference in their local communities.
Iannucci defended his acceptance of his OBE after former Downing Street director of communications Alastair Campbell tweeted: "So @AIannucci OBE joins the Establishment he claims to deride. Malcolm Tucker and I do not approve of honours system."
Mr Campbell was said to be the inspiration for Malcolm Tucker in Iannucci's political satire, The Thick of It.
Mr Campbell's comments sparked a series of exchanges between the two on Twitter, with Iannucci responding : "It's probably more Establishment to order your army to march into other countries for no reason. Swings and roundabouts."
Daily Politics presenter Andrew Neil also tweeted : "Why would somebody who constantly parades their anti-establishment credentials accept such a bauble?"
Iannnucci later told the Observer newspaper that it would have been "bad manners" not to accept the award and that it was "bad to crow about it afterwards".
'It was a wow'
Also to be knighted is Professor Jim McDonald, principal and vice-chancellor of Strathclyde University.
He started his Strathclyde career as an undergraduate and is being honoured for services to engineering, education and the economy.
Vanessa Orr, from Edinburgh, has fostered over 144 children in more than 25 years and was appointed MBE. The 54-year-old has been recognised for her services to vulnerable children and young people.
Barbara Johnstone, who founded Ravelrig Riding for the Disabled, in Balerno, and has raised more than £1m for it over the years, was appointed MBE for services to charity.
Trevor Francis, a 65-year-old station master at Aberdour Railway Station in Fife, has received the same award for services to the local community to recognise his unpaid work as station gardener.
He spends up to six hours a day tending the greenery there and was recommended for the honour by the local community.
He said: "When told, it was 'wow.' It has fulfilled my life, and I cannot thank the community enough."
The higher-profile recipients include politicians, business and industry figures.
Veteran Liberal Democrat Malcolm Bruce is being knighted for public and political services. The MP for Gordon, in the north east of Scotland, is the party's Scottish president and is involved with charities for deaf people.
Mr Bruce, whose daughter Caroline was born profoundly deaf, said: "I'd like to think the knighthood is not just for political longevity but for the work with charities.
"I got into that because of my daughter and hopefully it's of benefit to them.
"I've been an MP here since 1983, so I do owe a lot of this to the constituents."
Businessman Willie Haughey, a former director of Celtic Football Club, is being knighted for his services to business and philanthropy.
As well as building City Refrigeration Holdings into a successful enterprise he has supported a range of good causes.
Mr Reid, a former journalist, was elected an SNP MSP in the Scottish Parliament elections in 1999. In 2003 he took over from Sir David Steel, becoming Holyrood's second presiding officer.
Mr Reid said: "It's nice to feel that other people feel that you have made a difference in public life within Scots politics.
"I had a rough haul in the Scottish Parliament, getting a grip on the new Holyrood building and getting a grip on expenses five years before Westminster. So it's nice that that is recognised."
Opera director David McVicar was born in Glasgow, and discovered opera while growing up in the city by catching a TV screening of Bergman's Magic Flute.
He studied acting at The Royal Scottish Academy of Music and Drama where the head of the school told him he thought he should be a director. Since the early 1990s he has directed opera across the world.
In other honours awards, David Liddell, director of the Scottish Drugs Forum, was appointed OBE for his services to disadvantaged people.
Former Glasgow Lord Provost Bob Winter has said he is proud to be honoured with OBE for services to local government and the local community.
The director of National Museums Scotland, Dr Gordon Rintoul, has been appointed CBE for services to the museum sector.